A political movement aimed at "stopping student indoctrination in Hamilton County and throughout Indiana" with support from 14 Indiana business owners was canceled Tuesday after a statewide women's activist group began a mass campaign of protest against the event.
Scott Wolf, owner of Wolfies Grill in West Lafayette and five other locations in Indiana, was set to be the chairperson of the event.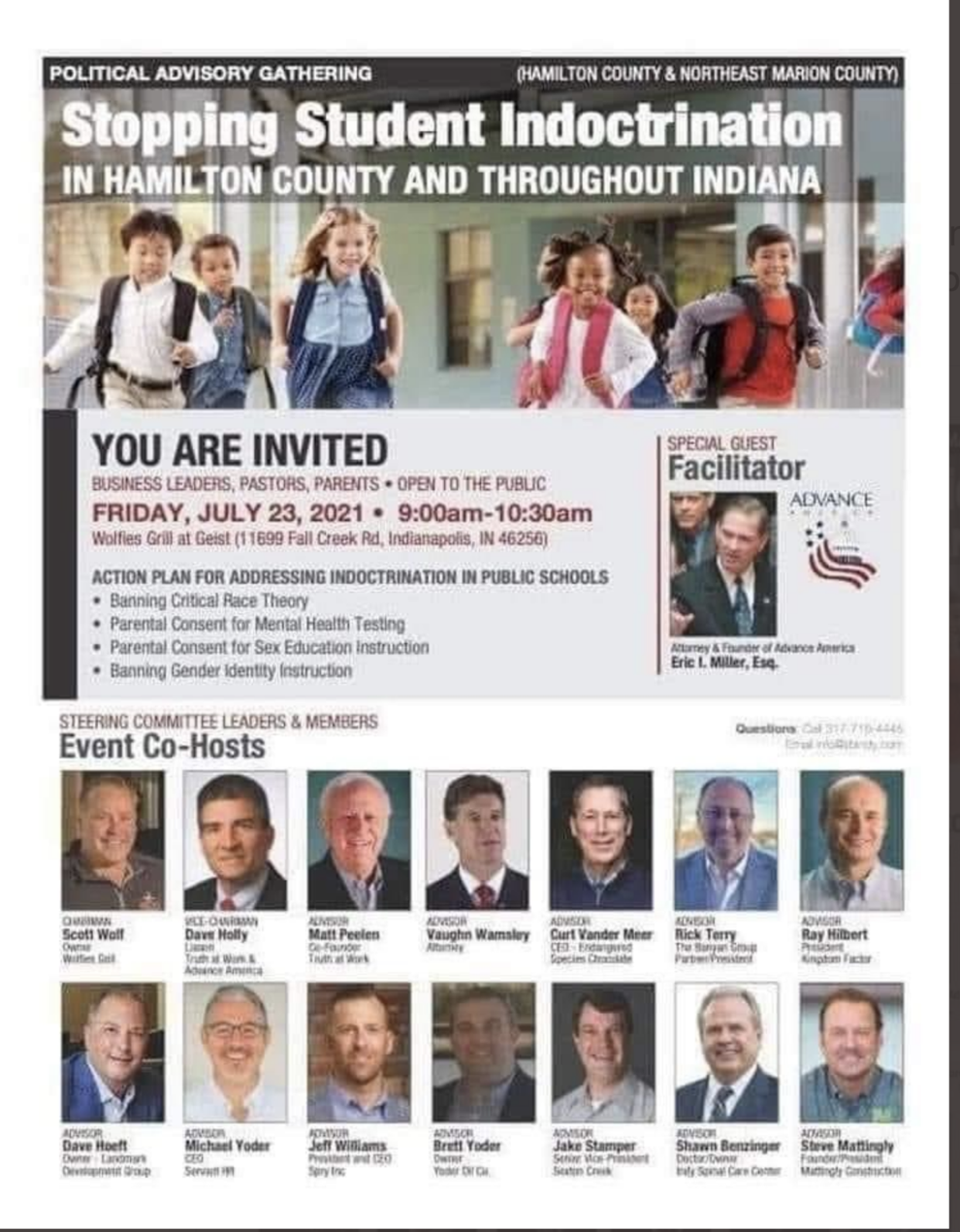 Kyra Smith, a member of "Indiana Nasty Women," an activist group aimed at supporting liberal and progressive political candidates at all levels of Indiana government, said one member of her organization discovered the flyer for the event when it was shared in a Facebook group. She shared it with the rest of the Nasty Women, who began organizing a protest of the businesses involved.
"We got them canceled," Smith said in a Wednesday night phone call. "We lit them up, we called all the businesses (whose owners were listed on the flyer) to express our concerns about this and we also did reviews on Google, Yelp and Facebook."
A flyer advertising the group as well as a "political advisory gathering" set for Friday at Wolfies' Indianapolis location circulated Twitter and Facebook Monday afternoon. Wolf's photo was included, and he was listed as "chairman."
The event was put together by Advance America, a "pro-family and pro-church" organization that intends to educate Indiana citizens on issues of civic and governmental literacy. A representative from Advance America, whose first name is Bill, said Wolf is the acting chairperson for the panel.
A statement from Wolfies Grill later contradicted Wolf's alleged involvement.
The statement, sent by Aaron Smith, said the restaurant "is not affiliated with Advance America, and only served as the hosted space for the event."
"Since Wolfies Grill opened in 2004, we've been proud to be known as a place where all feel welcome," he said. "Going forward, we will institute a review process to ensure future events are consistent with this sentiment."
Smith said in an email that Wolf canceled the event when he learned the true nature of it. When asked what Wolf's relationship to the event is, Smith said, "Since the event has been canceled, Scott (Wolf) is no longer the chairperson." Smith went on to say that if Advance America were to host a similar event in the future, Wolfies would not host it.
Wolf didn't respond directly for comment, and Smith declined attempts to speak with Wolf via phone call.
Rick Terry, panel member and president of Banyan Group, said the event was postponed, rather than canceled, and the panel decided Tuesday morning to move its meeting from the Indianapolis Wolfies location to a bigger venue to handle a larger crowd. The panel received messages from people from all over the state — on both sides of the issue — interested in attending, he said.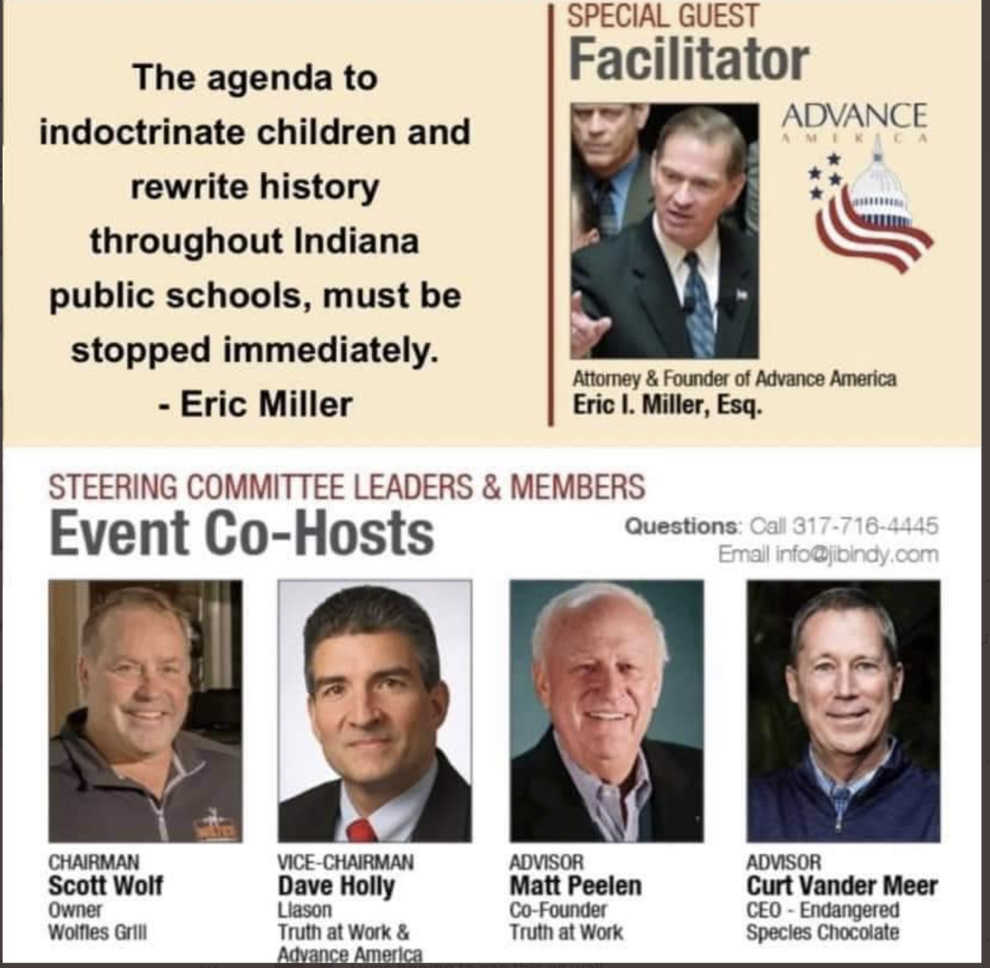 Though the event has been postponed to allow for more attendance, the purpose was to put forth four demands intended to rid schools of "indoctrination." The four demands are as follows:
Banning Critical Race Theory
Parental consent for mental health testing
Parental consent for sex education instruction
Banning gender identity instruction
A representative from Carmel Clay Schools, the school district in Hamilton County, said critical race theory isn't taught in any schools in the district. As for gender identity, mental health and sex education, they didn't say, but requested that The Exponent send questions in an email. The Exponent sent the email before noon Tuesday, and no one had responded by 4 p.m.
Neither Critical Race Theory nor gender identity instruction is taught in any of the West Lafayette Community School Corp. schools, said Dan Walbaum, associate principal for West Lafayette Jr./Sr. High School. Additionally, parental consent for mental health testing and sex education is typically required, he said.
Smith said she thinks the group's clamoring against Critical Race Theory is just a dog whistle for schools' implementation of Diversity, Equity and Inclusion curricula.
"DEI isn't a scary word, so they have to go with the word 'critical,'" Smith said. 
Advance America Founder Eric L. Miller was listed as the panel's facilitator. He didn't respond to a request for comment by 4 p.m. Tuesday.
Terry said Miller and his organization have been "involved in most of the parental protection kind of language in our legislative bodies over the last 30, 40 years." Terry said there are "dozens and dozens" of business leaders who have reached out to them with their concerns over the teaching of the four topics outlined in the flyer.
"We're concerned about our own families, we're concerned about the workforce, (and we're) concerned about the direction of our public schools," Terry said. "Ninety-one percent of students in Indiana are in a public school, and so we just feel like we need to get back to the basics. Let's not worry about a lot of the fringe things.
"Let's get back to the core things, how we're preparing our children to go into the workforce and into their life."
Critical Race Theory, which examines U.S. legal and economic structures as they intersect with racial injustice, has been making national headlines recently. Juanita Crider, a Program Advisor for the Black Cultural Center, said Critical Race Theory explains how systemic racism affects marginalized communities.
The theory, developed in the 1970s and 1980s, was created in response to the shortcomings of 1960s civil rights legislation, according to Associated Press reporting. The theory revolves around the idea that racism is systemic in the United States's institutions, and more structural in U.S. societies than just interpersonal.
While it began as a legal theory, Crider said, it branched out to include more aspects as more research went into the topic.
According to the Chronicle of Higher Education, its credited founders are an assortment of former and current law scholars and professors. Among them are New York University's Derrick Bell, Columbia University' Kimberlè Williams Crenshaw, the University of Alabama's Richard Delgado and UCLA's Cheryl Harris.
Terry said the panel wants to have a "healthy discussion" about teaching curricula in public schools, given the amount of discussion on the topic around the country.
"You know, we've seen this all over the country," Terry said. "There's a kind of a lot of hot topics and I think there's a lot of confusion, I'll be the first one to say that there is a lot of misunderstanding and I think we can either ignore it or we can have some healthy discussions about it."
He said healthy debate and conversation illustrates what issues are important to state citizens, which then trickles down to voting at a state level as well as the level of local school boards.
Terry said he hopes that healthy debate amongst Hoosiers will prevent conflict.
"You know how the climate is these days," Terry said. "I can't say I like blue shirts without someone getting mad at it."
The flyer received strong backlash on both Twitter and Facebook. One Twitter user posted a screenshot of the flyer, telling Wolfies it has "lost a customer for life."
Hey @WolfiesGrill , this is political theater designed to stir up outrage about things that don't actually happen, and you've lost a customer for life. pic.twitter.com/jkmPO5LchJ

— Caroline Hoy (@AhoyCaroline) July 19, 2021
Many users pointed to the fact that all 14 members of the panel are white, bringing their expertise and authority to speak on Critical Race Theory into question.
If 14 white guys co-sponsor a thing relating to diversity or education you probably don't want to affiliate with it.

— Jeremy Hatch (@naptownjeremy) July 19, 2021
Another Facebook user said the negative complaints are an example of "cancel culture at its finest." She argued in a comment that because the conversation hasn't been held yet, it would be unfair to judge the panel members and make assumptions about their characters.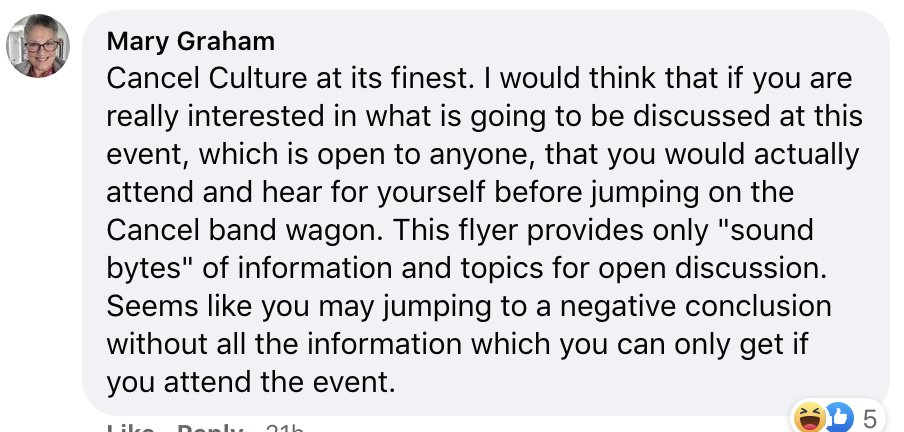 The Exponent sent direct messages to select Twitter and Facebook users requesting comment. No one responded to interview requests by 4 p.m.
As the 2021 school year approaches, Terry said the group still isn't sure when or where the meeting will take place.
Smith thinks otherwise.
"That was a 'save face' moment," she said. "I don't think there's going to be another one, but we'll keep an eye on it."