Jack Austin, a third-grader at West Lafayette Elementary School, wanted his classmates to wish his mother "Happy Birthday" via Zoom. The only problem?
She was in the middle of getting dressed.
"He came up with his iPad and the teacher was cracking up because all he heard was me screaming, 'Oh my God, tell me the camera is facing you!'" said Amy Austin, who turned 44 on April 13. "I was pretty sure I'd flashed the whole class."
Fortunately, Austin said, her 9-year-old son had the foresight to keep the front-facing camera focused on himself. While Jack does remote schooling, he uses the now-ubiquitous video-chat platform Zoom three times a week to stay in touch with some teachers.
Austin, who also has two teenagers, is one of many parents across the nation who find themselves quarantined at home with schoolchildren as a result of in-person class cancellations.
The potential spread of the coronavirus prompted West Lafayette, Lafayette and Tippecanoe County school corporations to shift to e-learning, keeping thousands of students home after mid-March. The schools operate on a three-day weekly schedule, holding classes Mondays, Wednesdays and Fridays. All schools in Greater Lafayette will finish classes May 15, the districts agreed.
Today marks the end of Indiana Gov. Eric Holcomb's previous stay-at-home order. But on Friday, he announced his intent to sign a new order that will last until May 1.
The Exponent spoke with three families who will have spent the entire month of April cooped up in their homes. They shared their experiences with e-learning and isolation through phone interviews.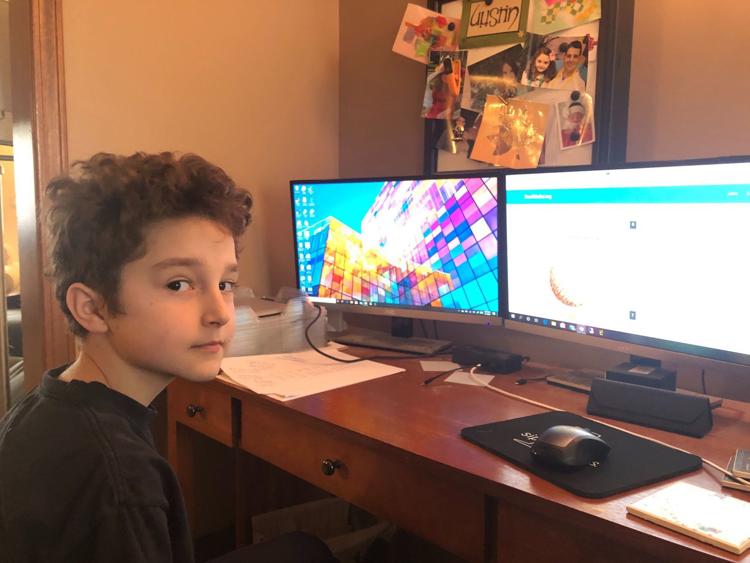 'I really miss my teachers'
Penelope Lucas, a fourth-grader at Battle Ground Elementary School, said a woman wearing a mask and gloves rang her doorbell Thursday. When she opened the door, the woman had left, and in her place was a heap of presents. It was Penelope's 10th birthday, and someone had sent her gifts.
Penelope's teacher played "Happy Birthday" on his guitar over video chat, said her mother, Amanda Lucas. Messages poured into Messenger Kids and Google Duo, the apps Penelope said she uses to chat with friends. She spent the entire day with her three siblings and parents at their Tippecanoe County home.
"I think it was actually one of my best birthdays," Penelope said. "I got to hang out with my family, and my friends said 'happy birthday' to me on the app, and I really appreciated that. I liked my birthday."
Amanda Lucas, 43, manages Orange Theory Fitness in West Lafayette and occasionally substitute teaches at Battle Ground Middle School. But now she's at home with her husband, Perrell Lucas, who sells medical equipment and works from a home office. Though she still live-streams fitness classes for clients and makes time for daily five-mile jogs outdoors, a large portion of her day consists of tending to her four children.
With her sons, Jonah, 15, and Christopher, 16, who both attend Harrison High School, the effort has been minimal. The two are self-sufficient, scheduling meetings with teachers when they need help and playing basketball or PlayStation for entertainment. But her patience is tested with her younger daughters, Penelope and Lucy, 12, mainly because of a difficult transition to at-home schooling for Penelope.
Because not all students at Battle Ground Elementary School have access to the Internet at home, the teachers opted to convert coursework into a paper format, Amanda Lucas said.
"They work on a computer when they're at school but they don't get to take them home with them," she said. "So we've had to navigate teaching without the textbook or without their computers."
Before the stay-at-home order, Penelope remembers driving to school, only to find a stack of papers that would supply her homework for the remainder of the term. She tackles a small stack each day, she said, balancing spelling and writing in cursive with social studies and reading. The hardest class to adapt to, Penelope added, has been math.
"I'm not the best at math, and it's hard to do math at home without my teacher teaching me," she said. The K-12 learning website IXL has allowed her to improve slightly, testing her knowledge of improper fractions, but it doesn't compare to seeing her teachers work through problems.
Lucy said she misses all of her teachers at Battle Ground Middle School, but none more than Mrs. Buck, who teaches math. Like her sister, the lack of in-person instruction weakens her sense that she's being challenged.
"I really miss my teachers," Lucy said. "And I think (in person) I'm actually getting more knowledge because they give me more challenging work to get better."
The sixth-grader's alarm wakes her at 8:30 a.m. on the three days she has school, and she gets right to finishing her classwork for the day. Often, she's done within a half-hour, she said. Her teachers are available for web conferences, when she needs them, so the days pass painlessly.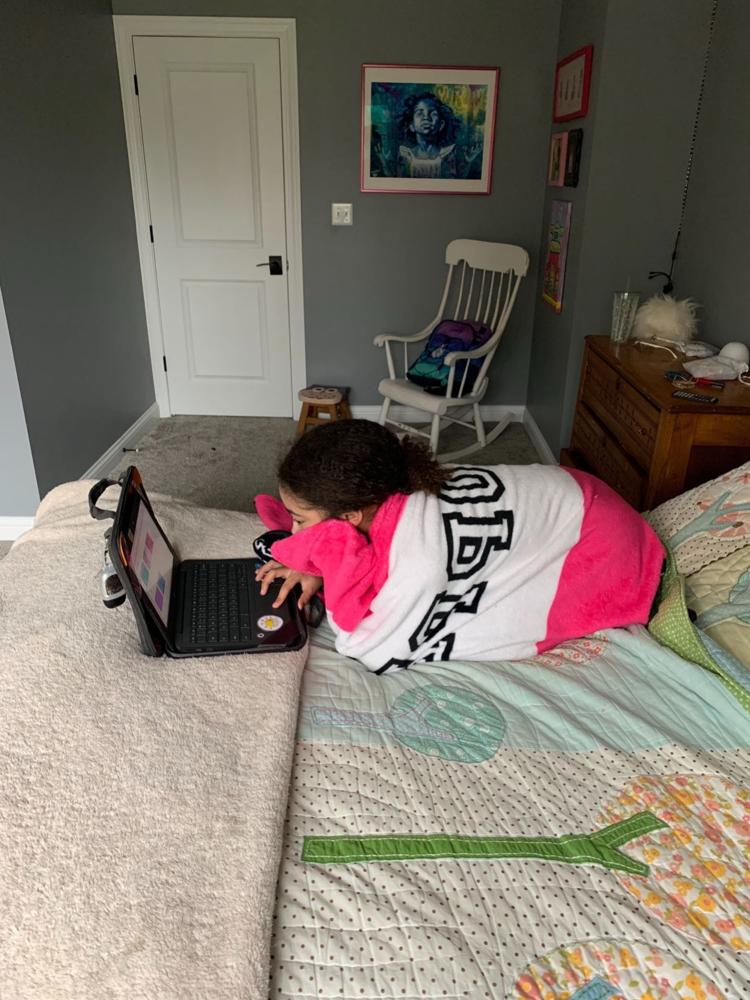 Jonah, a sophomore, said the hardest subject to learn remotely is algebra. For his brother, Christopher, a freshman, a lack of face-to-face conversation has complicated his Spanish class. Both spend two to three hours a day finishing work, much shorter than the seven-hour school days they're accustomed to.
The difficulty in learning math and literacy online is pronounced in children, said David Purpura, Purdue professor of human development and family studies. School teachers understand the "science of reading and math," he said, meaning they know how to convey material in a way students will comprehend and retain. Many parents cannot apply research-based techniques.
"I don't think there's ever a real substitute to that face-to-face instruction," Purpura said. "Really getting to know your students and understanding their needs, how they're doing with things, isn't something that can be easily replicated over e-learning."
Younger children, especially, need some form of support to learn effectively. Purpura said it's unlikely that parents, balancing their jobs or attending to other children, are able to devote the time to fulfill that need. This causes some students to lag behind, unable to complete their work.
Though many Indiana schools have e-learning curricula in place, a full-scale transition was bound to be tumultuous, the professor said. Courses have been reduced to three days a week out of necessity for both teachers and students, who are figuring out new methods to educate or learn.
A lot of students lack access to stable Wi-Fi, Purpura said, making live assignments problematic. The schools have adapted to depend largely on asynchronous learning, where assignments are given with a wide time frame for completion.
Purpura said the scale and speed of the pandemic has foisted new questions on human development researchers, who are trying to reckon with what the potential fallout may be. How can e-learning be done more independently? How can children whose parents are under-resourced receive more support?
"There are already things that we need to think about," Purpura said. "I think they become more prominent if this goes beyond the spring."
'Mom, why are we doing this?'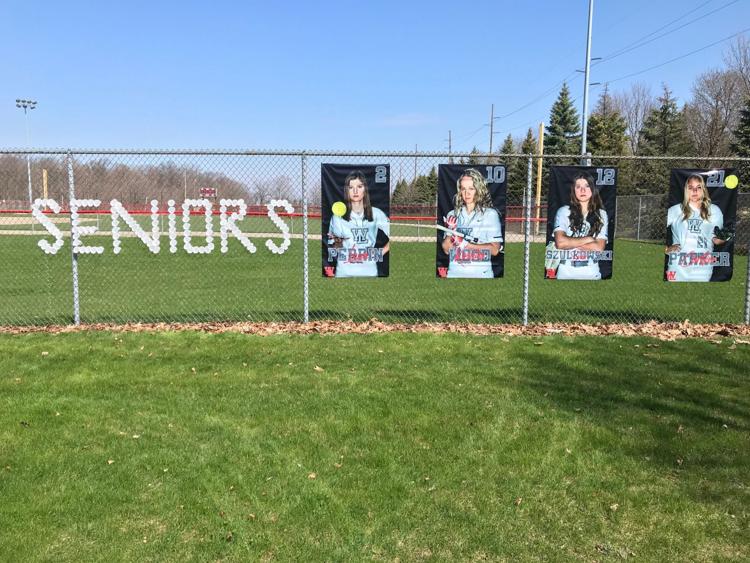 Caroline Parker, a 17-year-old senior at West Lafayette Junior-Senior High School, was the captain of the school's softball team. Practices lasted until 6 p.m. each day after school, and she and her teammates grew more eager as opening day approached. But after just four practices, the players learned their season was canceled.
"Since the lockdown, I've just been stuck at home," she said. "Before this happened, I would only have a couple hours at home, and so that's changed a lot. Now I'm here 24 hours a day."
In early April, shortly after it was announced that in-person classes were done for the semester, the Indiana High School Athletic Association canceled all spring sports.
The Lucas brothers stopped preparing for their baseball seasons. Claire, Amy Austin's 13-year-old daughter, hoped to try out for the middle school track team. She never got the chance.
Jonah said the hardest part about baseball and summer basketball season being canceled was that it kept him from his friends. His coaches have assigned him and Christopher at-home workouts that they do in the basement, trading time with their sister, who uses the space for dance classes. Playing basketball outside with his brother and father has become an important stress reliever, Jonah said.
Caroline said three days of school a week has allowed her plenty of time to do homework. So she sleeps in, sometimes until the early afternoon. When she's stressed, she walks her Doberman-Lab mix, Jax, to Tippecanoe County Amphitheater Park to enjoy the scenery. Sometimes she goes for aimless drives to clear her mind.
She said she's started to bake more often since being stuck at home. She used to make frequent trips to the grocery store to purchase boxes of brownie mix, but her mother, Kathy Parker, put an end to that habit.
"She likes to linger," said Parker, a West Lafayette city councilor and elementary school teacher. "And I feel like letting her go into a grocery store is like letting her go into a burning building."
With her mother so involved in the community and her father usually traveling five days a week, Caroline said she's not used to them being home so often. The experience has been welcome, she said, since she's soon to leave for college. She just affirmed her intent to enroll at Ohio University in Athens, Ohio, where she plans to study elementary education.
The college application process has been a way for Caroline to restore some semblance of normalcy, her mother said. Her spring break trip to Colorado with friends didn't happen after coronavirus fears intensified. It's uncertain whether her graduation ceremony, originally scheduled for May 22, will go as planned.
The potential the ceremony could be derailed has been a major stressor, Caroline said. Talks have been had about postponing it until later in the summer. A virtual graduation has been mentioned, she added. A more concrete decision will be made May 1, according to the school corporation.
"I don't use the word 'deserve' ever," Kathy Parker said, "but high school graduation is something that every kid deserves to have. It's a time where the community gets to say, 'Congratulations, good luck and we're proud of you.'"
Purdue professor of human development and family studies Shelley MacDermid Wadsworth said children and teenagers who lose rites of passage can experience intense grief. Because younger people have likely endured fewer crises, she said, their ability to cope can be less than that of adults.
"It's perfectly understandable that she would mourn that potential loss," Wadsworth said. "And there's not really anything that can be done to completely make up for it. But there may be new rituals that could mark the occasion in some meaningful way."
Wadsworth said it's helpful for parents to provide their children with the knowledge that they're contributing to the greater good. Most children want to help, she said, and knowing they could potentially save lives may allow them to reframe their negative experiences.
Claire Austin, whose mother called her an extrovert, has sometimes struggled to think in global terms about the pandemic. Being unable to see her friends and having the track season stripped from her has left her questioning the governor's stringent order.
"She'll get frustrated and say, 'Mom, why are we doing this? I just want to see my friends,'" Amy Austin said. "So I'll sit down with the graphics from the news and say, "OK, here's the curve and here's why.'"
Austin credited her children's generation with being more compassionate and altruistic. She said she would have been a "disaster" had something comparable happened when she was a teenager. Both daughters, she said, were receptive when she compared the number of hospital beds in Tippecanoe County to its total population.
"I wish I could explain it to adults that simply, but unfortunately, some adults listen poorly," she said.
'Families Tackling Tough Times Together'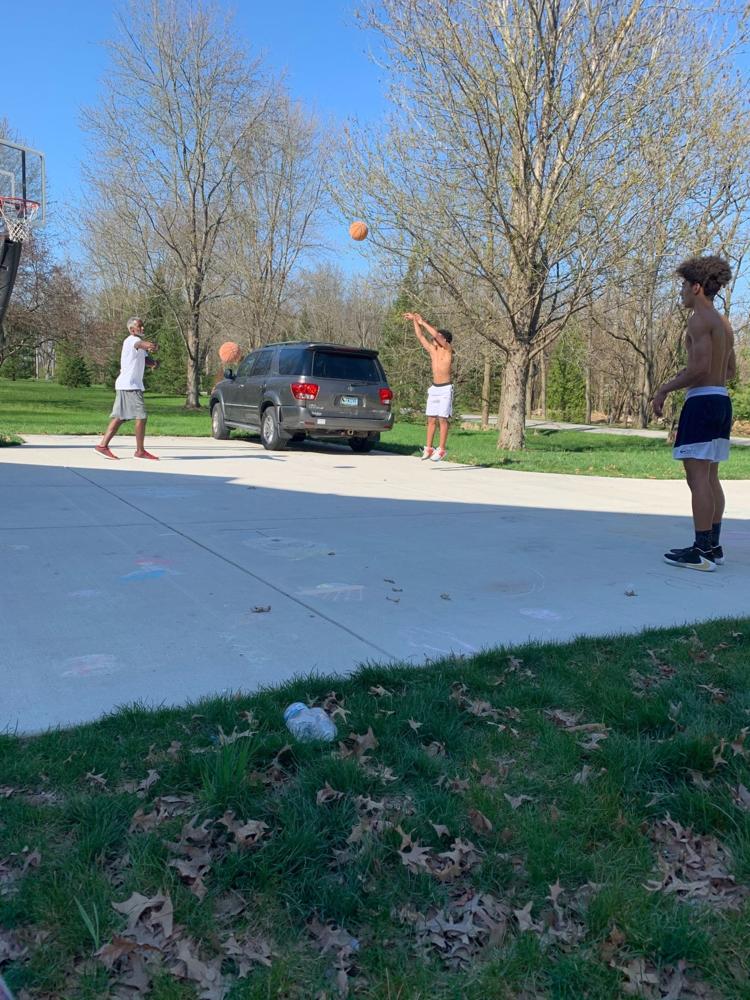 Despite an enjoyable 10th birthday, Penelope didn't deny that being at home with her three siblings can feel tedious.
"It's kind of hard being stuck inside with your siblings all day, every day," she said. "It depends on the day."
Her older brother agrees. Jonah remembers how, at the onset of the stay-at-home order, he believed he was sure to grow weary of family. The end of his sophomore year would be defined by entire days spent with his parents.
"This is very disruptive, especially for adolescents who are in the process of establishing independence from their parents," Wadsworth said, "and are scheduled to go through lots of important experiences."
Jonah's been surprised, he said, at how much fun it can be.
"I just think it's really shocking how connected we have all become, because we really don't have anything else to do," Jonah said, suppressing a giggle. "We'll come out and play horse in the driveway. Make TikToks, unfortunately."
Amanda Lucas roped the children into making TikToks, Jonah said — short, often silly videos that feature dances or lip syncing. Both Penelope and Lucy have their own accounts on the app, Penelope said, and didn't mind their mom joining. The dances have become a common evening activity for the family, a game night for the Internet age.
Wadsworth said the extraordinary circumstances prompted her to create a new 10-week Facebook group, "Families Tackling Tough Times Together," meant to counsel families that feel overwhelmed. The schedule suggests new advice each week, encouraging families to communicate honestly and openly.
"It's very difficult to help children understand this appropriately and then cope with the consequences," the professor said. "When families go through a really tough time, everybody is experiencing the situation, but they're experiencing it differently."
The program aims to help parents develop a deeper understanding of their children's emotions. New eating preferences, sleep disruptions and bad behavior are all possible manifestations of anxiety for young children, Wadsworth said. Teenagers often feel uncomfortable opening up to their parents, she added, so parents must strive to create specific opportunities.
Parents may benefit children from being transparent about their emotions, Wadsworth said. "Everything that parents do during this time is teaching their kids how to cope with a crisis."
Amy Austin used to complain that she drove in circles all day long, she said. She had a son in elementary school, a daughter at West Lafayette Intermediate School and a daughter in junior high. Mixing in various basketball games, choir concerts and hangouts with friends, the stay-at-home mom's life became a logistical mess.
Suddenly, though, her three children are stuck at home. The chaos has subsided into quiet, taking social lives and extracurricular activities with it. Unplanned encounters with other parents in the community are no more.
"We joke that we live in the car and we're constantly driving people here, there and everywhere," she said. "I don't think I'll ever take that for granted again, the luxury of being able to take them somewhere they're engaged or they're learning."
Amanda Lucas worked as a flight attendant in Boston during the 9/11 terrorist attacks, she said. She remembers vividly the hours spent planted on the couch, watching news broadcasts drone on with coverage of the attack.
"After September 11, I could have sat in front of the TV and just watched the news for hours and hours and hours," Lucas said. "And that just took me to dark places sometimes. It made me angry, and that doesn't benefit anybody."
It's allowed her to better understand the dreariness she's now feeling, she said. She's tried to impart her perspective to four children in need of coping mechanisms. She's watched her two sons become frustrated as they've come to realize the gravity of the crisis and its implications.
"We can worry until we're blue in the face and there's nothing we can do about it," Lucas said, sighing. "Our thing is to always just put one foot in front of the other. Keep plugging along."