A new residential project named "Provenance" marks the sixth major project in the Discovery Park District so far.
Announced in May, Provenance will add townhouses, single-family homes, and other living options and amenities, all spanning a 90-acre plot in the center of the district. The project will roll out over the course of eight phases, but Justin Moffett, representing the development company partnering with PRF to build the homes, told councillors during Monday's city council meeting that he expects to have houses available by late 2020.
With new company partnerships coming — such as the recently announced Saab partnership, which is expected to bring in around 300 jobs and begin hiring in 2020 — the overall goal of Provenance is to attract businesses to the area. The project is expected to help with that by providing a place for employees to live.
"So the best example I can give you is when Saab came to town for their announcement, one of the first conversations we had was, 'Where are people going to live?'" said Old Town representative Moffett.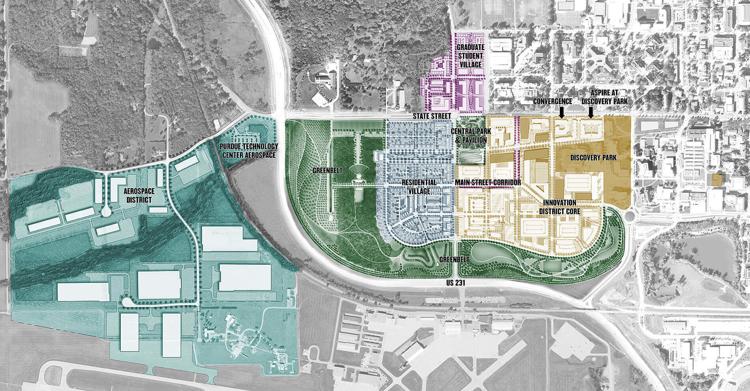 Provenance is part of the larger $1 billion, long-term transformation of Purdue's west side, with the goal of attracting new business to the park while creating an environment for "intellectual discourse and high-tech commercial enterprise," according to a Purdue Research Foundation press release.
Several councilors also mentioned they knew alumni who were intrigued at the idea of living in the park.
"We're sensing there's a lot of demand for existing community stakeholders, people who work within the University system or new businesses that we might attract," Moffett said.
And the houses offered in the district aren't ground leases, according to Moffett. Instead, the lots will be sold to home buyers and are a for-sale transaction.
The specific design of Provenance will feature single-family detached houses, townhouses, cottages, market-rate apartments and condominiums, according to a Purdue press release. The area also includes plans for a day-care center, community center, fitness center, retail stores, restaurants, a centralized green space and community gardens.
At the council meeting, West Lafayette Mayor John Dennis questioned the spacing between each house in light of July's house fires at Lindberg Village.
Joe Bumbleburg, a lawyer representing Old Town, said an ordinance requires six feet on either side of the property lines and can be adjusted if need be.
Because the Provenance area is already host to a significant growth of trees, according to Bumbleburg, a tree-saving program will be active throughout the construction process.
City councilor Nick DeBoer was excited at the idea of seeing actual homes off State Street now that the State Street project, a driving factor for the Discovery Park District, has come to a close. 
"It's been a long time coming to have townhouses, single-family homes," DeBoer said. "I think that was one of the major intentions for the State Street investment, was to see this area be revitalized to attract young talent, to attract young families and professionals and to have an environment that is walkable and near campus."