Throughout interviews with Tippecanoe School Corp. alumni, a recurring concern was reactions from McCutcheon High School Principal John Beeker when discussing race.
Alumnae Diamond Singh and Naja Barnes believe their principal sometimes did not know how to handle racial issues.
After describing a racist incident that transpired on Snapchat, Beeker, a nearly-60 year-old man, just started "talking about black people (more)," Barnes said, "but he didn't address the problem that McCutcheon had."
Barnes and Singh suggested he hold a school-wide conversation addressing the "race problem(s)" they witness in the school.
The young women say they feel their convocation idea was changed into something without any lasting value.
In February, Black History Month, "he got a black band, I think they were from Gary, Indiana," Singh said, "and they came in and sang some old hymns, some African songs."
He randomly picked some classrooms to go listen, she added. "The whole school wasn't required to go, so it was kind of pointless."
They say Beeker told them he did his best.
Alumna Gisselle Alvarez recalls Beeker making a racially insensitive comment in a meeting with students.
"He was trying to pick a leader for this group — I can't even remember what it was — and he said, 'OK, let's pick someone with cool hair,'" she said.
"I was so confused. What did (he) mean by 'cool hair?'" she asked herself. "Then he says, 'Don't make me say it.'"
A pause.
"'OK, someone black,'" Alvarez remembers him saying.
"It's like he didn't even feel comfortable to say 'black person' or a 'person of color,'" she said.
Responding to The Exponent's request for comment on the accusation, Beeker said, "False statement. Never would or have said that."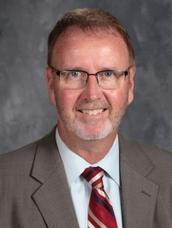 Sophia Xioufaridou, an incoming senior at MHS, says Beeker used a variety of anti-gay and racial slurs, including the N-word, in a private meeting late last year.
"We used to have monthly meetings to discuss how things were going around the school," said Xioufaridou, president of the school's gay-straight alliance.
"He … listed slurs he 'hasn't heard in a while,'" she said. She remembers he got about six words in before she interrupted him.
"Let's not say slurs that don't belong to us."
He doesn't recall the specific meeting taking place, Beeker said, but he did not deny the accusation, adding that he feels it was taken out of context.
"I was the principal that started the GSA five years ago," he said. "I just need to know the terminology so I'm talking the right language.
"Anything that I say to anybody is to just get to the heart of the matter," he said, "but if I remember right, and I don't have the list I had, I do probably remember saying things to her — I thought the conversation was (a) back-and-forth."
Beeker says he understands the heightened awareness of his students.
"I think what we're all trying to ... understand (is) what many of our students are going through," he said. "I'm just a little disappointed.
"If (students) are saying this, I guess we still got some work to do."
Continue reading: