A serene rectangular room on the second floor of the Art Museum of Greater Lafayette is adorned with the many-hued and poignant multimedia art of Purdue alumnus Boyd Smith, whose exhibit is called "Rudiments of SuPre."
SuPre, a portmanteau of "super predator," is a term coined in 1999 by a criminologist named John Dilulio to describe a false prediction of an explosion of violence caused by Black men.
But it wasn't until the night of Trayvon Martin's death in 2012 that Smith said he recalled watching a documentary about 'super predators' that highlighted Dilulio's phrase as a way of justifying George Michael Zimmerman's violence, an act that was the eventual cause of Martin's death.
It was during Zimmerman's trial that Smith searched for a thesis project, according to the exhibit summary on the museum website.
"Rudiments of SuPre," originally Smith's senior thesis project from 2017, is a collection of artwork that highlights how the idea of a super predator shapes the violent realities experienced by Black people.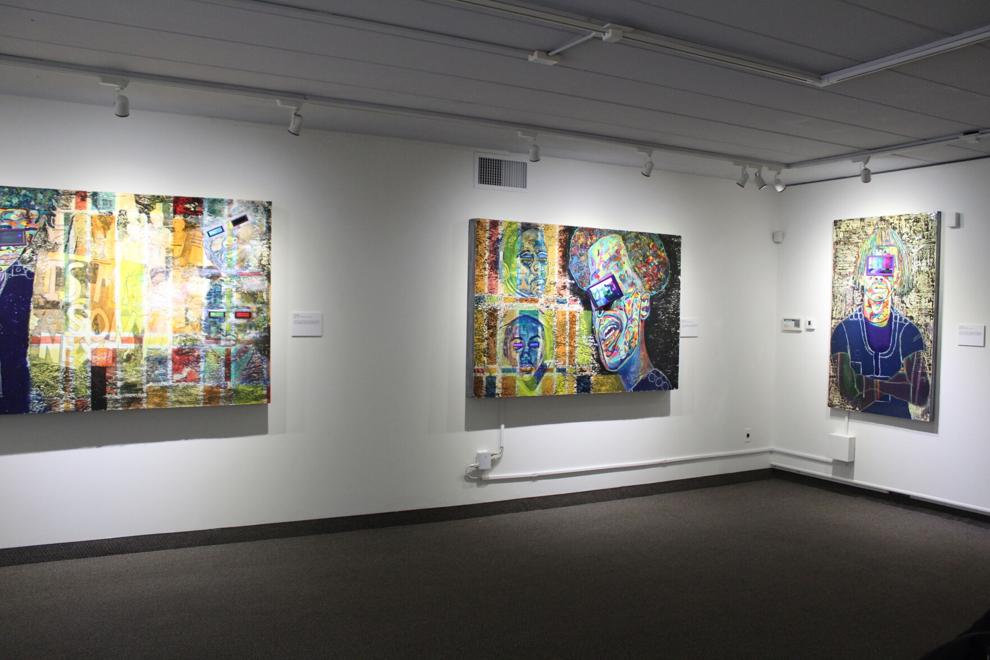 "I was looking to create some kind of superhero action figure that was based on Black life experiences," Smith said in a virtual talk organized by the museum, "and it was very draining, but the work had to be done."
On Sunday between 1:30 p.m. and 3 p.m., the museum had no visitors, but two employees of the museum who double as artists, Lorie Amick and Cheryl Borst, had a lot to say.
"African American people have had different responses to white people, and I think I've seen a lot of white people very moved, myself being one of them," Amick said softly. "I mean for Black people, it's their story and they've experienced it. So I think (the difference in reaction) is because it comes from a different place. (Smith) told me the story. It's personal."
Smith has expressed a struggle with mental exhaustion from his personal experiences dealing with the tragic news of Black-related violence and profiling.
"It became very exhausting, sad, depressing," he said. "(It's) part of the reason I'm not on social media today."
Amick said she is particularly grateful for the dialogue and emotions this has evoked from people.
"I have had some hard-word conversations with African American people that I would not have broached without this (art) kind of opening the door," she said.
Her favorite of the entire collection is titled "Introduction to SuPre," she said. It is a painting of a Black boy standing with arms folded. Where his eyes should be, there is instead a display screen showing mainstream media coverage that perpetuated negative stereotypes of Black youth.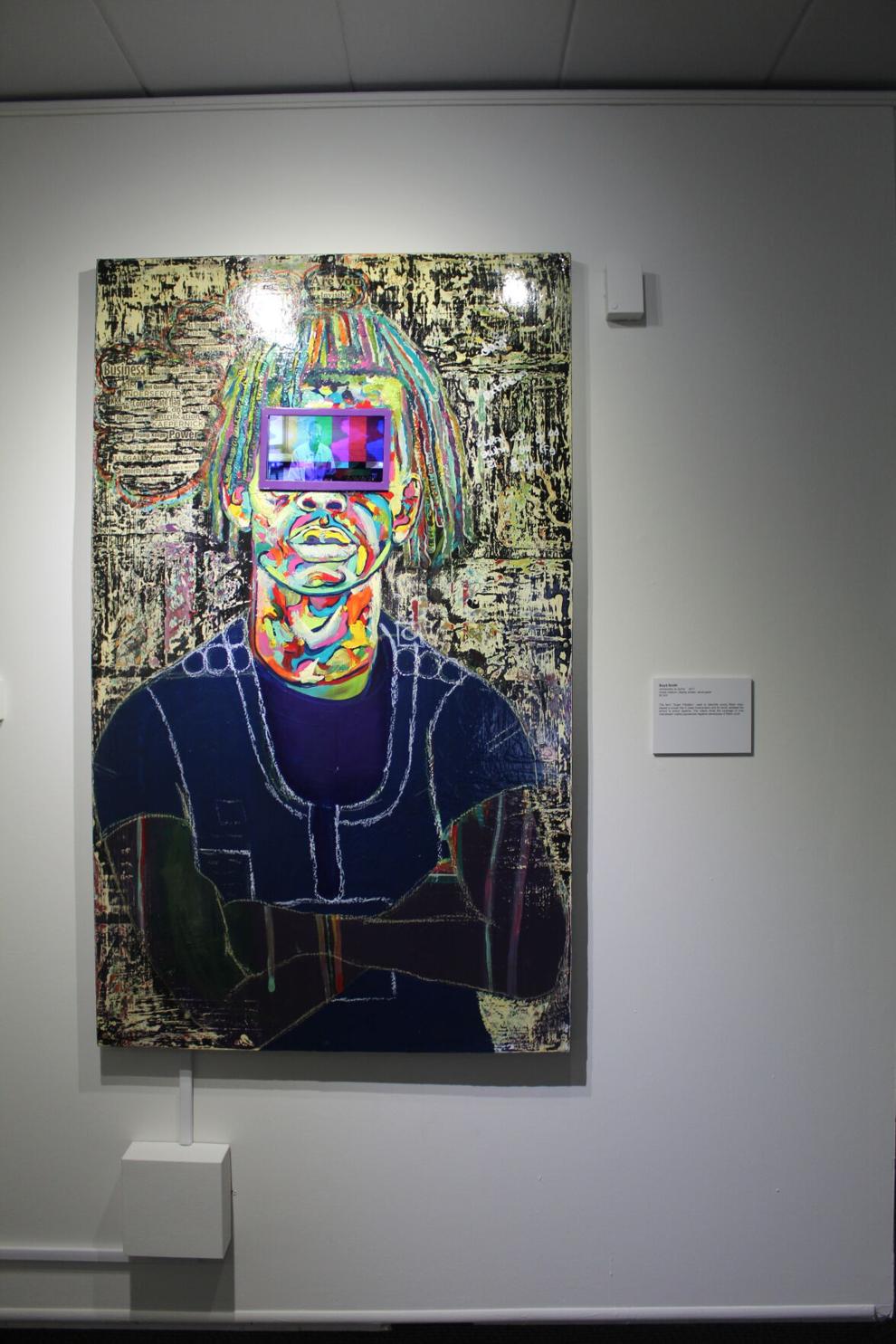 "He's the main character, if you will," she said. "I feel like this image is really, really powerful. I mean he is looking you in the eye, except he isn't."
Borst had a more emotional response to the art. Her favorite is called "My Son Next?" and she said it hit a raw nerve for her as a parent.
"I also have African American friends who come from places like Chicago where three/four members (of their community) have been killed by shootings and things like that," she said. "I mean, even having one of those is hard enough … it breaks my heart.
"I know I am privileged just by being me and I love that the message is so powerful. It's not something you necessarily are comfortable with, but it brings up important discussions that need to be had."
Borst said the multidimensional aspect and relevance of the art can evoke completely different reactions from viewers.
"We've had people that come in and spend two hours here total, and they're in (this room) for 23 minutes, she said, "and we've also had people that come in and immediately walk right past this room because they don't want to deal with it."
She said this is part of the reason she finds the artwork to be important. "It brings out real emotions in people and forces them to confront these emotions."
Smith works as a curator of the United States Olympics and Paralympic Museum in Colorado. He plans to do something that pertains to this moment by building in extra details to show how the story of SuPre is continually evolving.
"Even with (the U.S. Capitol protests on) January 6, I'm not surprised that it happened. I did gather that content the same way I did SuPre, so maybe in future I will create something along the lines of that," he said.
Smith's work will be available in person at the museum and on the museum's website until April 18. Museum entry is free, but reservations are required on the museum's website. The museum is located in downtown Lafayette on 102 S. 10th St.