A few dozen provisional and military votes were added during Friday's certification of election results in Tippecanoe County, bringing the final count to more than 72,000. Without significant changes in results to examine, the board members vouched for the integrity of the election against claims of fraudulence.
Board member Kent Moore, a Democrat, said the county's 233 election workers — roughly half are Republicans and half Democrats — did work that directly contradicts Republicans' efforts to raise doubt about election security.
"The 233 people … worked wonderfully together, and I can't believe that isn't true in every place across the country," Moore said. "As I'm hearing that our election is fraudulent, I want you to know in every state, in every precinct, in every voting center, it was Rs and Ds working together — teamwork — and that's why this is an election we should be proud of."
"Yeah, we should be," said Tippecanoe County Clerk Julie Roush, a Republican board member, who recounted midnights spent working and 80-plus hours logged each week during the lead-up to Election Day. "Somebody brought me flowers yesterday, and it was very sweet — opposite party."
Board member Randall Vonderheide, a Republican, said Tippecanoe County built a backlog of election workers during a time in which opting to remain away from crowds at vote centers was tempting. The county had to organize an election that served more voters than ever, and over 50,000 more voters than the June primary election.
Though turnout of 60.72% among registered voters is slightly lower than 2008's turnout of 66.72%, about 15,000 fewer voters were registered that year.
Of more than 119,000 people registered to vote in Tippecanoe County in 2020, 72,468 cast valid ballots, a record-breaking total. About 3,000 fewer ballots were counted in 2008, the year that previously held the record.
Dozens of ballots were excluded from the official count for reasons that have become fodder for baseless claims of fraud nationally.
Roush offered one striking example in the list of ballots proposed for rejection: 19 mail-in ballots were removed from the official tally because the people who had cast them died before Election Day.
"We thought that was very high, by the way," Roush added, summing up an election that garnered historic turnout despite coinciding with a surging pandemic that has killed nearly 4,700 Hoosiers, 23 of them in Tippecanoe County.
Four were disqualified because the voters were registered outside of Tippecanoe County. Twelve didn't count because the voters apparently weren't registered anywhere. One person attempted to vote twice "because they wanted to change their vote," Roush said.
"Their original vote is counted," she added. "This one, we would like to ask that it be rejected. This is their second attempt."
Overall, around 30 provisional ballots — which are provided to voters when issues arise with their registration status at vote centers — were discounted after audits occurred in the 10 days following Nov. 3. Five were accepted because issues were found to have occurred with poll workers or the county's registration software.
Another 32 ballots from military or overseas voters were included in the final count, Roush said. Their ballots can arrive up to 10 days following Election Day if postmarked by that day, an exception to the noon deadline on Election Day by which other absentee ballots must arrive to be counted.
Forty-two regular mail-in ballots arrived after noon on Nov. 3, Roush said, meaning they were excluded from the final count.
Republicans' qualms with mail-in voting largely concern extended deadlines for mail-in ballots to be received in decisive states such as Pennsylvania, where ballots could arrive up to three days following Election Day.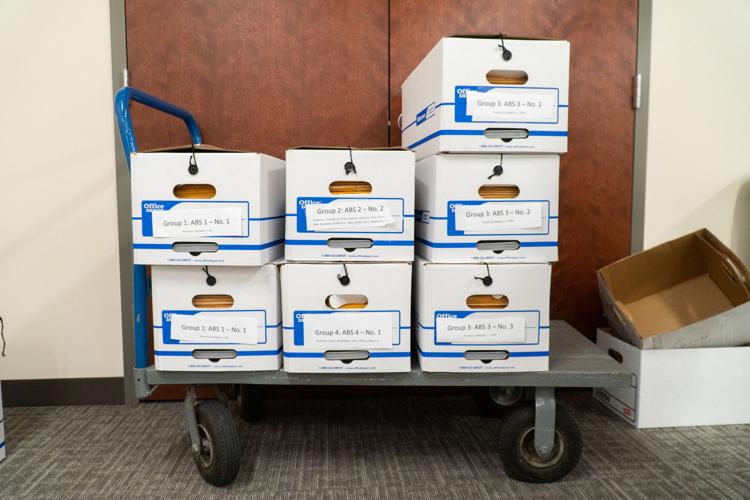 A federal judge in Indiana ruled in late September to require county election boards to accept ballots until 10 days after the day of the election, but that ruling was struck down two weeks later by the U.S. Court of Appeals for the Seventh Circuit.
"People who worry that mail will be delayed during the pandemic can protect themselves by using early in-person voting or posting their ballots early," the Oct. 13 ruling states. "Those who act at the last minute assume risks even without a pandemic."
Nearly 11,200 absentee ballots — which includes mail-in ballots and paper ballots dropped off before Election Day — were submitted and counted in Tippecanoe County.
Mike Smith, an election worker who has helped to conduct elections in the county for decades, also noted this was the most expensive election ever at roughly $148,000. That total is about $30,000 to $40,000 more than is typically spent in general elections, he said.
The largest category of expenses? Postage.
Smith conducted an analysis that pinned a cost of $37.50 to each ballot, which includes both postal, paper and labor expenses because the ballots are so time-intensive to count.
"It is the most expensive way of voting you can imagine," he said.
Voters hand-delivering absentee ballots during 28 days of early voting allowed the county to lower costs substantially, Smith said. During the primary, the county paid for postage in advance on return envelopes instead of promoting in-person delivery.
"If we had done it the same way that we did," he said, "we would have wasted at least $30,000."