From blasting the tunes of a band from the 1980s to amplifying the voices of protesters, one man has used his sound system to serve the community for decades.
Longtime Lafayette resident Eric Thiel, 69, said he's been into politics for as long as he can remember. He often participates in local protests, marches and strikes to express his progressive beliefs, which he said "haven't changed much since the '60s."
His first protest, he said, was a takeover of the Purdue Memorial Union in 1969. Thiel said the protest spanned a weekend and comprised about 400 individuals protesting the Vietnam War, harsher restrictions to residence life and a rise in tuition.
"I was 18, still in high school when the takeover of the Union occurred," he said. "But I was over here, helping take over the Union because that was more interesting than high school."
Thiel chuckled, adding that in actuality he missed only one day of classes for the protest.
He met his wife, Janice, at the takeover. Thiel said during a recent protest on campus that she's "just as radical" as he is, if not more.
"We met at a dance in the (PMU) ballroom that was held during the protest," Thiel said, "and we danced together all night."
Although Thiel went on to study anthropology at Purdue for a few years, he said he wound up leaving the University so his wife could finish her degree in nursing. They couldn't both afford to continue their schooling, he said, and felt her nursing degree would be more useful.
Once he left Purdue, Thiel said he worked at the General Foods factory in Lafayette, which closed in the late 1980s.
He worked at the factory for 14 years, he said, making his way up in rank as an officer in the Amalgamated Meat Cutters and Butcher Workmen of North America, the factory's union.
Thiel said he continued his activism while in the AMCBW, publishing The Blade, a "radical" newsletter in which he engaged in political writing.
"I kept getting in trouble for that," he said, eyes gleaming above his mask as he described how the leaders of his union accused him of being a "card-carrying communist."
"I said, 'Well, I've got a library card,''' Thiel said, miming searching through his wallet. "'Don't have my communist card, though.'"
In addition to his activism, Thiel made himself heard in another way — through music.
"I've almost always, since I was about 19 or 20, been in some kind of band," he said. This involvement is where he cultivated his knowledge of sound systems, having played bass for Hormones a Go-Go featuring the Fabulous Creamettes, a band he was in for about a decade in the 1980s.
"We were what you'd call 'locally famous,'" he said of the group, which mostly played venues in the area.
Thiel said that after the group disbanded in the 1990s, he started playing music and running the soundboards for the Unitarian Universalist Church, which he has been attending for about 30 years. This is how he came to provide sound systems for protests.
"The kids at the church, of course, knew about me having a sound system," he said. "So they had this climate protest a couple of years ago. They said, 'Well, could we have help with sound?'
"I said, 'Sure, why not? I'd like to do sound for a climate change strike.'"
Thiel said he tries to create space to talk about issues that some people don't want to acknowledge.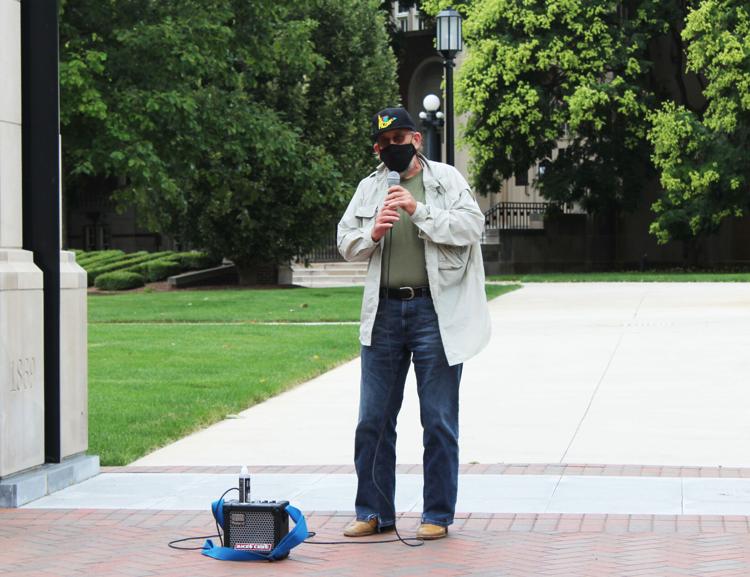 Annabel Prokopy, a church member and one of the students who organized the strike, said she initially asked Thiel if she could borrow a microphone from the church for one of her climate strikes, unaware that he had a sound system of his own.
"Eric was more than willing to bring his sound system to the strike," she said. He provided sound for all three of the strikes the group held last year.
Prokopy went on to praise Thiel, whom she said she's known for as long as she can remember.
"He has shown up early to countless protests to ensure that speeches could be heard," she said. "He's such a valuable member of the community."
Alice Pawley, a professor of engineering education at Purdue, said Thiel has helped her run sound for protests she's organized in the past as well, such as a climate strike in November last year.
"He retired not that long ago," she said, "and actually posted on Facebook saying, 'Have sound, will travel for a good cause.'"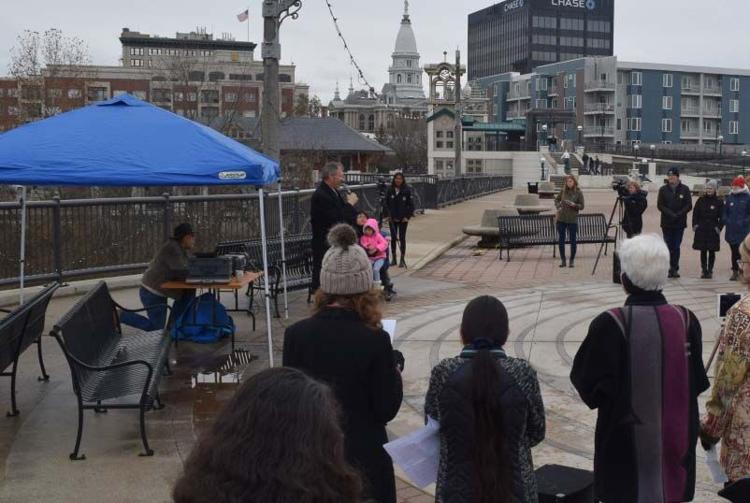 Pawley said she has known Thiel since around 2007, when he was the president of the Unitarian Universalist Church.
"He's quiet, but he's a rabble-rouser," she said. For example, Thiel wrote to the Journal and Courier on her behalf; she had been quoted in an article about her fears of reopening campus in the fall, which Purdue President Mitch Daniels criticized in an interview with CNN.
"Given his historically flaccid responses to campus problems like racism, sexual assault and alcohol-related deaths," the letter to the editor read, "a few more disease-related deaths are not likely to cause him concern."
Thiel's advice to today's budding activists: Don't give up.
He said the fight for change has always been a slow struggle, but he has faith in the current generation's advocacy for change regarding the same issues he helped battle in the 1960s.
"Young people now are a little more hardheaded and committed than we were," he said, noting that many of his fellow activists who claimed to be fighting for an assortment of causes dwindled after the military draft ended. He said his generation as a whole wasn't as committed to social justice issues as today's youth appear to be.
Thiel said he has continued to try to create space to talk about issues he felt some people didn't want to acknowledge.
"And then the young people started taking over recently," he said. "I said, 'Oh, this is cool. I'll just help them.'"