CARMEL, Indiana — The smiling faces of over 140 golfers looked up from rows of golf carts to hear Tony Trent speak of his late son, Tyler Trent, a devoted Purdue fan whose battle with cancer sparked national outreach.
Tony's request of the crowd was simple.
"Will you smile for him?"
The father's voice wavered for a moment as he addressed the large crowd from the balcony of the golf clubhouse. The day brought sunshine and bright blue skies despite fear of rain from event coordinators. As the eager listeners prepared to take to the 18-hole course, they each took a moment to remember why they were at Monday afternoon's event. 
20-year-old Boilermaker Tyler Trent died in 2019 after a battle with a rare bone cancer, osteosarcoma. Tyler's nickname in high school was "Smiley," Tony recalled. His nickname was a tribute to his positive attitude and how, despite his circumstances, he always "smiled a lot through his life."
The inaugural golf classic "Tee off for Tyler" was hosted at the Bridgewater Club in Carmel, Indiana, the family's hometown. Situated between cobblestone walkways and a shaded residential neighborhood, the golf course was green and open, and the golfers traveled on fully electric golf carts. Proceeds from the event went to The Tyler Trent Foundation, a nonprofit established by the Hamilton County Community Foundation in 2019.
Tyler received national recognition from his story, and used his new platform to encourage fans to donate to cancer research. Over $3.1 million has been donated in Tyler's name, according to a press release. His memory continues to tug at heartstrings and bring in donations through charity events in his name, something his family said they believe would make him proud.
Tony said the Trents wanted the profits of this event to go to the Tyler Trent Foundation so they can donate the money specifically to pediatric cancer research. Kelly Trent, Tyler's mother, said the golf event was meant to happen last year, but was postponed because of the pandemic.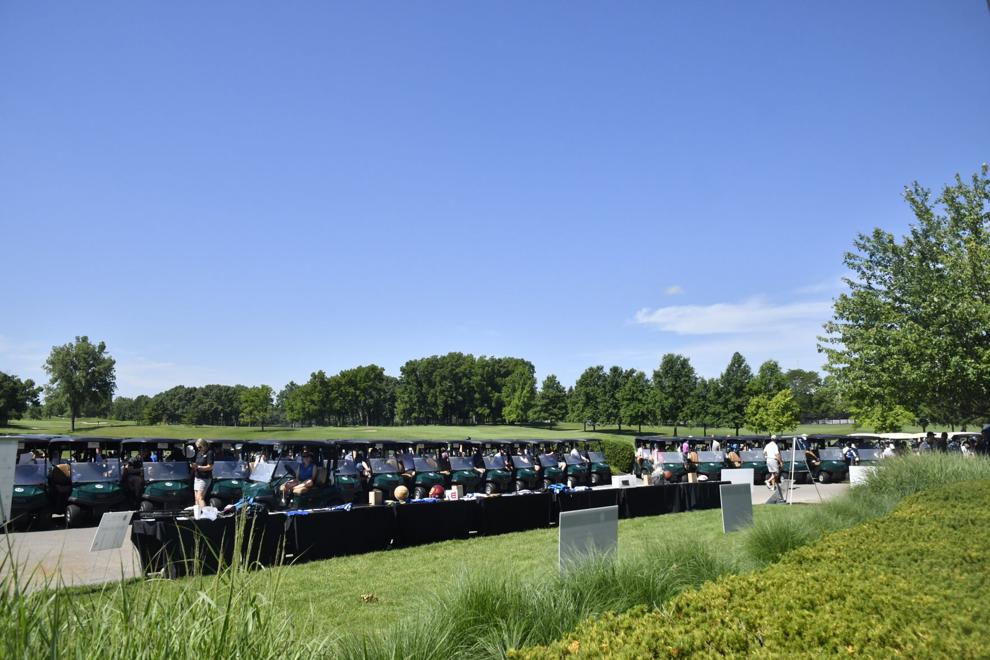 "So this is our first big fundraiser to be able to then give back to pediatric specific cancer research," Kelly said. "I'm just excited to drive around in a golf cart and talk to people as they're playing and just see the faces that are here. It's an overwhelming feeling."
Tony said the event had a lot more participants than they expected, being in its inaugural year. He said many charity events usually take the form of dinners or auctions, but they wanted to do the golf outing specifically because it also captured Tyler's love for sports. He called the outpour of community support "undeserving," a word Tyler would often use to to describe himself in regard to the national support he received. 
"I can just see the smile on Tyler's face and him shaking his head just because he'd be so humbled that people would be coming out for him," Kelly said.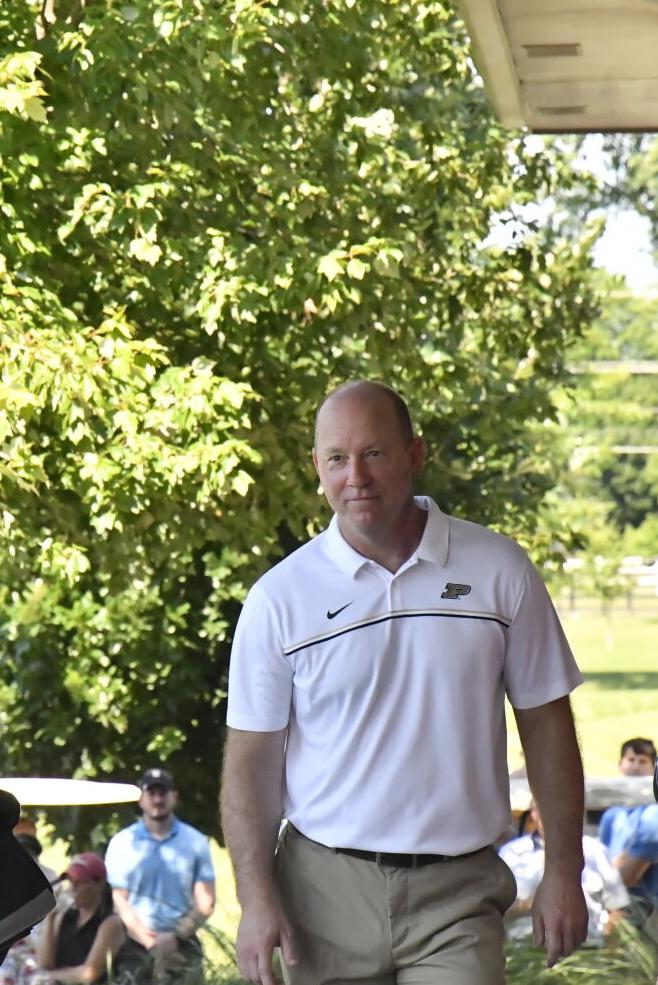 Purdue football coach Jeff Brohm spoke in honor of Tyler, specifically noting how his positivity helped encourage the football team. During his time at Purdue, Tyler was named honorary co-captain of the team.
"His courage, his ability to display that tremendous personality in adverse situations like no other was contagious and it definitely helped our team achieve a lot," Brohm said to the crowd. "It gave us the ability to do things that we didn't think we could do. And that just tells you how special a person he was."
The Trent family's pastor, the Rev. Bill Dinsmore, joined in the game with a group from the College Park Church in Carmel. Walking to retrieve his golf ball at the top of hole 9, Dinsmore readily shared fond memories of Tyler.
"(Tyler) wanted people to know that he had a faith in Christ," Dinsmore said. "He wanted people to know that it was in the arms of the Lord, and he was not going to take it lying down, he was gonna go forward and really battle this thing — and he did."
Dismore said one of Tyler's favorite Bible verses was First Thessalonians 5:16-18, and that it was the verse he read the morning he learned that he had cancer. Dinsmore also read the verse to all of the golfers during the opening ceremony of the event, just before he led the participants in prayer.
"Rejoice always, pray without ceasing, give thanks in all circumstances, for this is the will of God in Christ, Jesus for you," Dinsmore recited.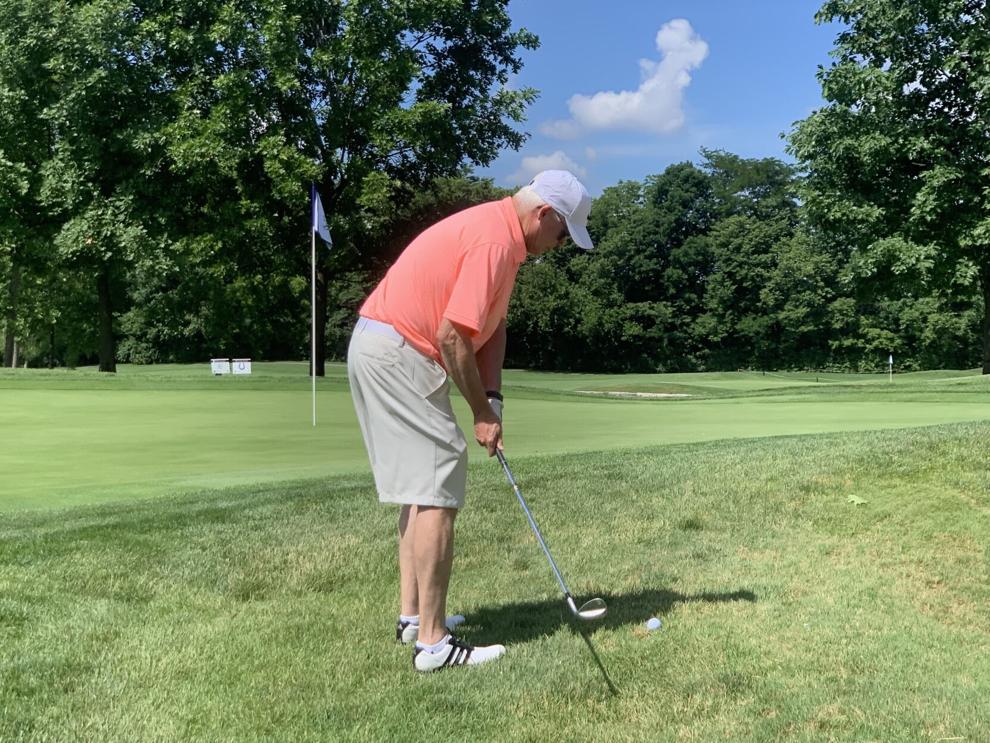 Tyler's youth minister Alex Anderson, who was golfing with Dinsmore, said he often spent three or four days a week at the hospital with Tyler during his cancer battle. Anderson said faith was a large part of Tyler's life, and that remained consistent throughout his illness — something he felt helped him stay so positive.
"I think he knew, more than anybody that I've ever seen have cancer, how much he was going to impact people with what he was going through and that people were watching him," church member and chaplain Ray Marsh said. "A lot of people don't realize that, they get so self focused. But he was aware that people were watching. It made a difference."
Donations to the Tee off for Tyler fund can be made here.