Snapchat just got a makeover – Boilermaker style.
A new Purdue themed geofilter features the Bell Tower and graphic that says "Hail Purdue!" The geofilter was created by Reed Fansler, a sophomore in the College of Liberal Arts who read in an online article that Snapchat opened their platform for community geofilters. Fansler saw the need for a Purdue-inspired Snapchat geofilter to promote school spirit and advertise the University.
"Whenever I go on road trips with my friends, it's exciting to see which new Snapchat filter appears," said Fansler. "(I) thought it would be really cool to have one that appears on campus."
Geofilters are special filters for Snaps that can be accessed in specific locations. These filters are designated to a certain area, often celebrating a special aspect of that location.
"I thought Reed was joking (about making a filter). I didn't know that any ordinary person could make one," said Logan Zehr, a sophomore in the College of Engineering. "I think Reed's geofilter brought some welcome school spirit through students' snapchats."
The process for submitting a geofilter is quite simple. Users simply set a certain geographic location and upload their design to Snapchat's website. Fansler downloaded Adobe Illustrator from Snapchat to use as a platform for creating the geofilter. He used the official Purdue font from the Purdue Marketing and Media website for the "Hail Purdue!" part of the filter and designed the Bell Tower graphic from his Wacom tablet. Fansler, who is majoring in Industrial Design, said that it's exciting to use skills he has learned from his major to create things everyone can enjoy.
"Purdue students needed a Snapchat filter because it helps us communicate our Boilermaker pride through a really huge platform," said Fansler. "Purdue is known for being a campus of makers. When prospective students come and visit campus, it is exciting (for them) to be able to send a Snap to their friends back home and sort of advertise our University."
After Fansler submitted his geofilter to Snapchat, the company had to approve it. It took about a week after the company approved the geofilter before it appeared on Snapchat. The geofilter is available on campus from McCutcheon Drive to Northwestern Avenue and from State Street to Stadium Avenue. While students are within these boundaries, they can use the geofilter to show their Boiler pride to friends and family who are far away.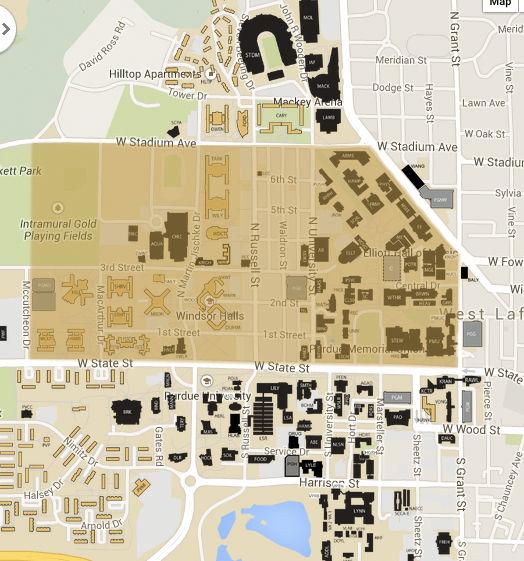 "I think (Reed's geofilter will) bring awareness to students about geofilter creation, and its room for growth at Purdue," said Zehr. "It's the only geofilter I've seen here at Purdue, and I believe it will motivate others to create their own."