DELPHI — Kelsi German stops, the gravel beneath her feet ceasing its crunching. She gazes at the memorial honoring her sister and her sister's best friend, both of whom died three years ago.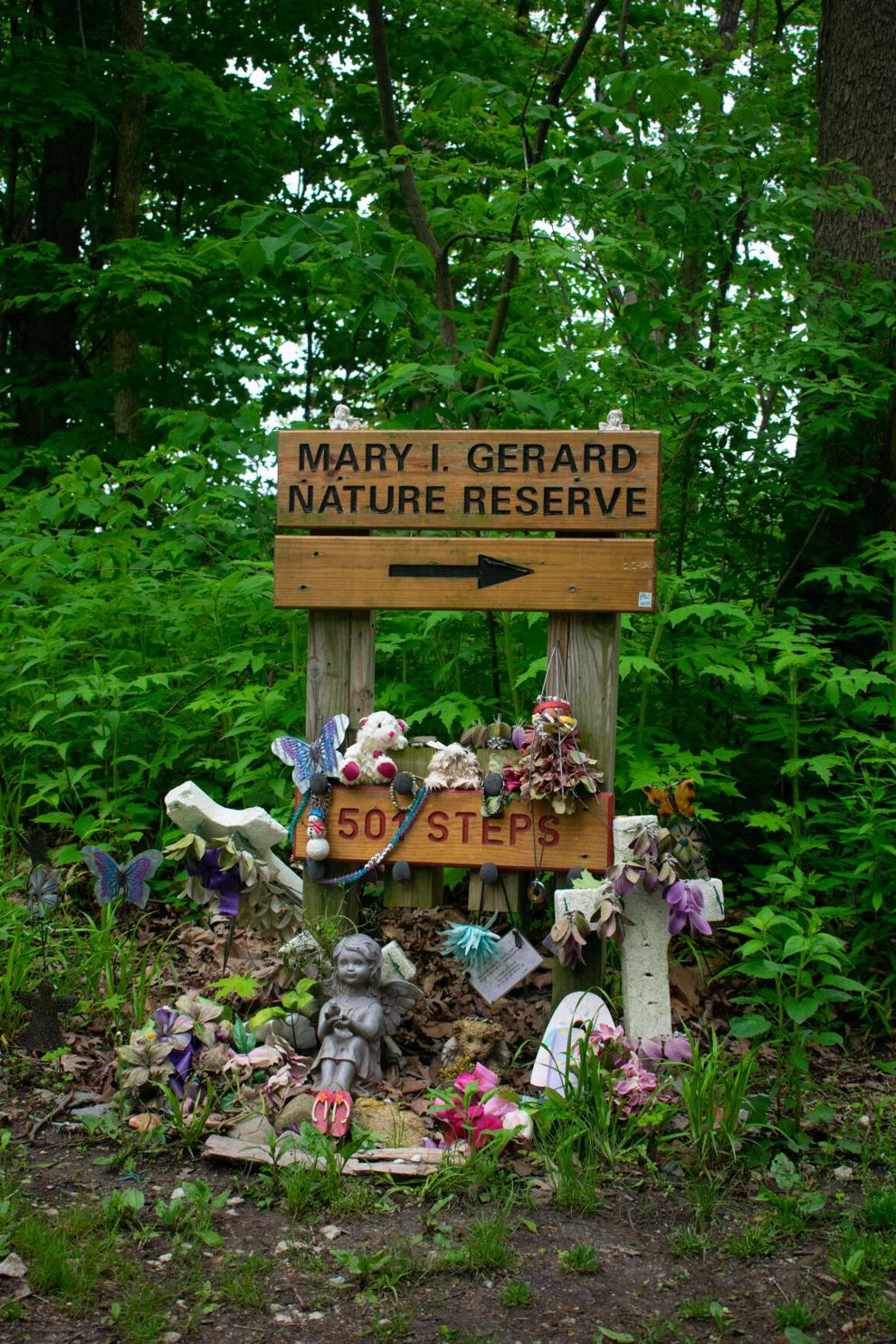 Pastel cutouts of the letters "L" and "A" lean against the wooden post of the makeshift memorial. Strewn about the letters are white crosses, pink flowers and beaded jewelry, none of which were placed by Kelsi's family.
A soil-smeared sign reads: "Abby and Libby: We are still searching for the truth. We refuse to give up until justice is served. In hope and love, The Justice Seekers," signed by a group of seven web sleuths who live online, working full time to uncover hidden details.
A rusted, bent-out-of-shape red gate blocks what used to be an entrance to the Monon High Bridge trail, no more than 200 paces from where Kelsi stands.
On Feb. 13, 2017, this was where she dropped off 13-year-old Abby Williams and 14-year-old Libby German, who walked to the spot where their memorial now stands and turned left.
The trail, two people wide and shrouded by trees, winds around a bend and leads to an 850-foot-long abandoned wooden railroad bridge. The two girls were headed to take Snapchats on the bridge, which looms several stories above the rushing Deer Creek, when they encountered a man.
His identity remains unknown to law enforcement. He wore faded jeans, a navy blue jacket and a brown sweatshirt, the hood pulled over his head. A video captured on Libby's phone shows him walking toward the girls, and on a later recording he says, "Guys, down the hill."
Around noon the next day, the girls were found dead on a steep embankment along Deer Creek in Delphi, about a half-mile from the bridge.
"If you weren't from the area, you wouldn't know (the trails) were here," German says, turning away from the trail. "It's hard for me to imagine that someone I've grown up with, someone who grew up in the same place I've grown up in, could do something like that."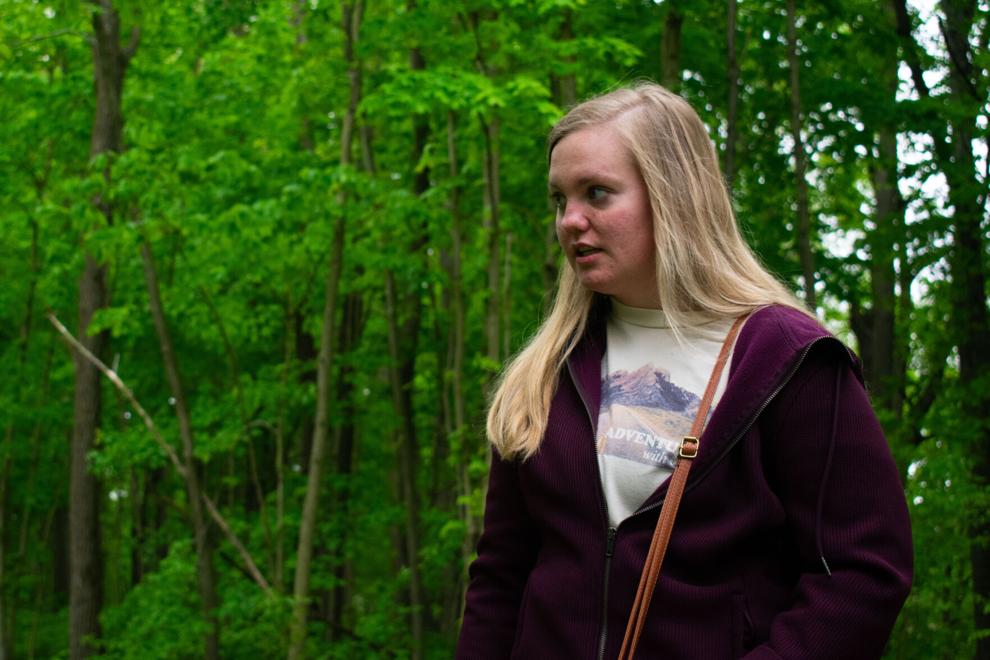 Kelsi remembers seeing a dark SUV, its rear windshield covered in decals, parked near the entrance where she dropped off the girls. She didn't pay attention to whether any people were around, something she regrets daily.
"The people who walk past me in the store, I can tell you exactly what they were wearing usually a day later," she says. "Just because that's the kind of stuff I have to know now."
Now a 20-year-old incoming junior at Purdue, Kelsi was only 17 when her sister, Liberty, was killed. In the years since, Kelsi's been thrust into a national spotlight she didn't ask for, with media members and podcasters all seeking her opinion.
Some have been helpful — she keeps a list three pages long of people she's spoken with — while others have disrespected her family's suffering in favor of a dramatic narrative. At first reluctant to publicly advocate for her sister, Kelsi now owns her story, and then some.
"Sometimes you have to deal with the sensationalized part of it to get your story out there," she says.
She hasn't limited her activism to extracurricular choices. After a year at Ball State pursuing a degree in communications, she had a change of heart. Her transfer to Purdue was the culmination of a longing to immerse herself in the criminal justice system to help future victims' families.
As long as the case is unsolved, the town of Delphi remains apprehensive. Its members have been told by law enforcement that the killer likely is or was formerly a resident of the 3,000-person community. Progress seems slow, though investigators refuse to label it a cold case.
In years past, Kelsi suffered severe panic attacks when she and her family trekked to visit the bridge on earlier anniversaries of her sister's death. She'd reach the memorial, look down the trail leading to the bridge and sit to wait while family members continued on.
The bridge is under construction now, blocked off by a chain-link fence, so we walk an adjacent trail down a steep hill, one Kelsi last walked on with Libby two weeks before her death.
"She would have been turning 18 this year," she says. "It's really crazy to think she would be driving right now and filling out her college applications."
Kelsi's phone rings. She adjusts her purse on her hip to grab it.
"My grandma's checking on me," Kelsi says after ending the call. "She saw I was down here."
Kelsi's grandmother, with whom she lives in Delphi, tracks Kelsi's cell phone locations now. The call came despite the fact that Kelsi had told her grandmother earlier that day she'd be visiting the trail.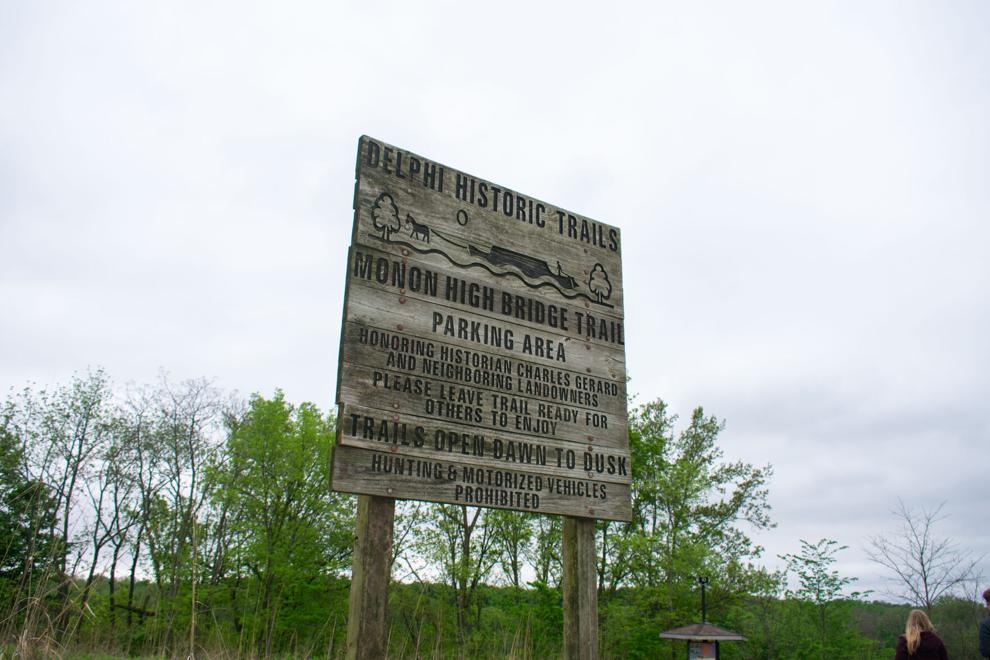 The day the girls went missing, she and her grandparents scoured the forest alongside hundreds of Delphi community members, leaving after hours without success. Shortly after, the family downloaded an app to track one another, and Kelsi carries with her a taser and pepper spray.
"Just in case," she says, alluding to the man suspected to have killed her sister. "Especially since we don't know where he is or where he could be now."
Finding meaning
The panic attack happened while Kelsi was studying for a criminology class, reading about homicides.
She was a freshman at Ball State in late 2018. She had been away from home for three months and hadn't yet mustered the motivation to explore campus or make friends. Many times she sat in her dorm room for hours on end, advocating on social media to find her sister's killer and doing as many as six interviews a day with various journalists and podcasters.
Her mental health was depleted by her devotion to her sister's cause; it had come to dominate her life. It was in this state that an older man — "he looked a little bit scary" — approached her while she was studying on campus, sending adrenaline coursing through her veins.
"It just felt like any older man who was coming near me could be that person, because we didn't really have an image of who he could be," she recalled. "So as I was sitting there, I was thinking, 'What if this is him? What if he's taunting me? What if he's gonna follow me back to my dorm room? What's gonna happen?' It was very real and very scary."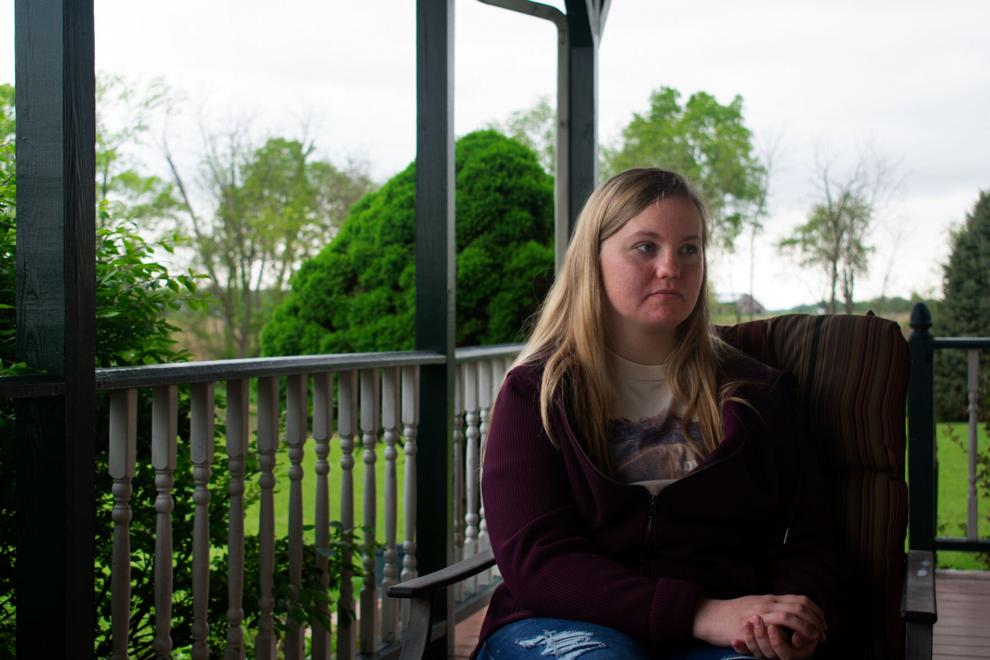 Kelsi had aspired to be a photojournalist throughout high school. When Libby was taken from her, it spurred a change that may put her front and center in future homicide investigations: She wanted to study forensic science and drop communications.
The decision took rounds of visceral conversations with family members. Ball State's criminology department didn't offer the forensics program she wanted.
What's more, committing to forensic science meant relinquishing the ability to remove herself from the world of criminal investigations when it became overwhelming. Instead, she'd be immersing herself in that world, each lab and course serving as a constant reminder of Libby's crime scene.
"Our concern was all her life she wanted to go into journalism, and if it hadn't been for this, she'd be in journalism," Kelsi's grandmother, Becky Patty, said. "We asked her to put a lot of thought into it, because this is a career."
But Kelsi was sickened by all of the Abby and Libby memorial events she was missing while at Ball State, two hours from Delphi. Purdue is only a half-hour from home, and it offers a psychology program with a minor in forensic science.
"I came to the realization that this is what I'm passionate about now," she said. "Helping people get through what I'm going through now is what I want to do for the rest of my life."
Rather than pursue a traditional career in forensic science, which involves collecting and analyzing physical evidence from a crime scene, Kelsi majors in psychology to focus on the individual motivations of criminals. She minors in both forensic science and law and society, which offers an alternative to the blood spatter and bullet holes that are prominent in crime labs.
Certain classes have been discomfiting, regardless. One lab during her first semester at Purdue required work involving blood spatter. Though she never saw the girls' crime scene, she said any gore prompted visions of what may have happened.
"I could not sit there and physically look at this blood spatter without wanting to leave," she said. "When I see that stuff I'm able to imagine it, and I don't want to imagine it."
She talked to her teaching assistant and was excused from attending class. The normal curriculum was replaced by an essay about blood spatter, which she finished without issue.
Professor of forensic entomology Krystal Hans said the field needs to improve its alternative options for students who have experienced trauma. She taught a course about career paths in forensic science that Kelsi took and was the first professor to learn of Kelsi's connection to the Delphi murders.
The professor had heard of the case through law enforcement contacts, but the extent of Kelsi's experience shocked her, Hans said. In Kelsi's story, Hans saw an opportunity: She could convey the human effect of homicides to forensics students taught to view crime scenes through a scientific lens.
"It was something that I started talking about with my colleagues, trying to understand if people were putting emphasis in their courses on the emotional impact," Hans said. "And I found that nobody was."
Students weren't attuned to the lasting consequences of deaths for victims' families and law enforcement. Occasionally they'd glorify crime scenes, Hans said, expressing intrigue to see a dead body and be inside the yellow tape.
Kelsi agreed to record a 25-minute lecture outlining the emotional toll of Libby's death. Her account was personal and harrowing, Hans said, dispelling the myths portrayed in sensationalized crime shows.
Students expressed awe that Kelsi was willing to expose herself daily to reminders of her sister, Hans said. She asked students to respond to reflection surveys to see how the talk resonated.
"A lot of people would shut down and lose motivation when something this terrible happens," one student wrote. "She, instead, uses her experience as motivation to help so many other people in the country."
A media frenzy
Cornfields surround Kelsi's home in rural Delphi, stretching for miles across the soundless landscape. A neighbor's golden farm dog roams the narrow road down the hill from the house and nips at the rear ends of cars that drive by.
The house sits at the end of a long driveway, with beige vinyl siding, dark green shutters and a porch that spans the length of the house's front side.
It was this idyllic setting where, on the day she and her family learned Libby's body had been found, members of a popular news network peered through windows and knocked on the front door to root out interview material, Kelsi said.
"And then they repeatedly call you every single day. Which is OK, we get they need a story," she said. "But the day after you find out somebody in your family is murdered, that's not exactly what you want to be doing."
The deaths created a media frenzy among outlets seeking the sentimental touch only a family member can offer.
TV personality Nancy Grace — "a bit of a spitfire," Kelsi says — recently overwhelmed her during an interview, with constant interruptions and conspiracy theories. Podcasts have sprung up featuring sensationalized, drawn-out descriptions of the circumstances surrounding the deaths.
"In Pursuit with John Walsh" aired an episode investigating the Delphi murders in April. Kelsi said the crew spent dozens of hours interviewing her, her grandma and grandpa, their living room turned into a cramped television set.
"I think I talked for 30 seconds in the show. My grandparents both had 30 seconds," she said. "We literally sat in this little house, it was incredibly hot, we had to be really quiet. And we got 30 seconds to share our story."
Kelsi now takes the attention in stride, but she didn't always. As a 17-year-old thrust into a national spotlight, she balked. She refused to deal with the media unless her grandparents joined her. Also nagging her was whether her public presence might incite the murderer to silence her.
As her grandparents have stepped back to grieve, she's taken the helm, becoming a primary source for interviews and information on the case. The way she puts it, her best friend was taken from her; what more does she have to lose?
"If something's going to happen to me, at least it happened while I was trying to solve what happened to her," she reasons. "My way of coping is to continue to spread the word and talk to whoever will listen about what happened."
Patty remembers how close her granddaughters were. Wherever Kelsi went, Libby seemed to follow. To be only 17 when Libby died forced Kelsi to endure "something horrific, that no child at that age should have to live through," Patty said.
But her youth also makes her privy to a new media space dominated by apps like Twitter and Instagram, which attract entirely different audiences than do old-school cable outlets. Kelsi's grandparents were mystified when they met young people at CrimeCon, a true-crime convention, who knew nothing of the Delphi murders.
"We were like, 'What do you mean you haven't heard about the case?'" Patty said, her voice rising in disbelief as she remembered the conversations. "We were on Dr. Phil and Megyn Kelly and Dr. Oz and they said, 'Oh, we don't watch TV.' And so Kelsi has filled a gap."
More attention means a higher likelihood the case is solved, Kelsi knows. Publicizing her story, ironically, has forged sincere connections to hundreds of people who also have missing or deceased siblings.
Her junior year at Delphi Community High School in the months after the deaths was depressing, she says. Sympathetic peers made efforts to befriend her, but nobody knew what to say. Dozens of friends dwindled to three or four. Kelsi didn't want to talk, anyway.
She's lived with her grandparents since she and Libby moved there 13 years ago because their parents had dissociated from them, she said. Kelsi's mother lives in Kentucky, and the two argue more than ever before, Kelsi says. Her father has been in and out of prison, though he now lives at her grandparents' home.
In need of a support system, in May of her senior year she traveled to Nashville to attend CrimeCon, which puts an emphasis on respecting victims' family members and spreading information about missing persons.
Thousands of attendees empathized with her, something she found lacking in small-town Delphi. She remembers being moved upon meeting Michelle Cruz, the sister of a Golden State Killer victim.
"She looked at me, my first day of CrimeCon," Kelsi recalls, "and said, 'We're here for you, and no matter how long you have to wait, you're not going to have to wait 42 years.'"
Her Twitter following has since ballooned to more than 12,000 people, and she's flooded with 100 DMs a day. Sometimes people send tips about Abby and Libby. Others plead that she use her following to spread their story.
For every case that generates as much buzz as the Delphi murders, Patty figures there are nine that don't. She said to her, it seems the media gravitates toward cases without rhyme or reason. It was pure luck the Abby and Libby case gained traction, in her view, and now the killer is under building pressure.
"There are many families that aren't as lucky, and Kelsi has seen that," she said. "So she tries to help those other families as much as she can. She uses the fact that people know who she is to help others."
Others reckon the eerie imagery linked to the case makes it rare. Indiana State Police Superintendent Doug Carter said how unusual it is for law enforcement to obtain a photo, video and audio clip of a suspect without being able to identify the person.
The investigation seems to loom on a precipice. The one-more-tip mentality — "Nearly 65,000 or so tips, and we're missing one," Carter insists — fuels entire online communities of vigilantes.
The subreddit "Delphi Murders" has nearly 27,000 followers who hang on Carter's every word. One theory wrongly posits that Carter's allusion to "The Shack," a novel about a man who seeks redemption after his daughter is murdered, during a 2019 press conference implies the girls' killer may have been motivated by the book, or even left it at the crime scene.
"It's problematic," Carter said about conspiracy theories. "With homicide cases, it's easy to speculate."
Any theory about the source of the case's magnetism has to acknowledge the setting. The town's isolation points to one of its own as a probable suspect.
And, as business owner Trish Mendel said, "You would never think something like this would happen in a small town."
'They took our kids'
Everyone in Delphi knows Kelsi, she tells me as we walk around the historic downtown square. It's impossible to search the name of the 3,000-person town without being prompted to read about the murders.
In person, reminders lie on every street.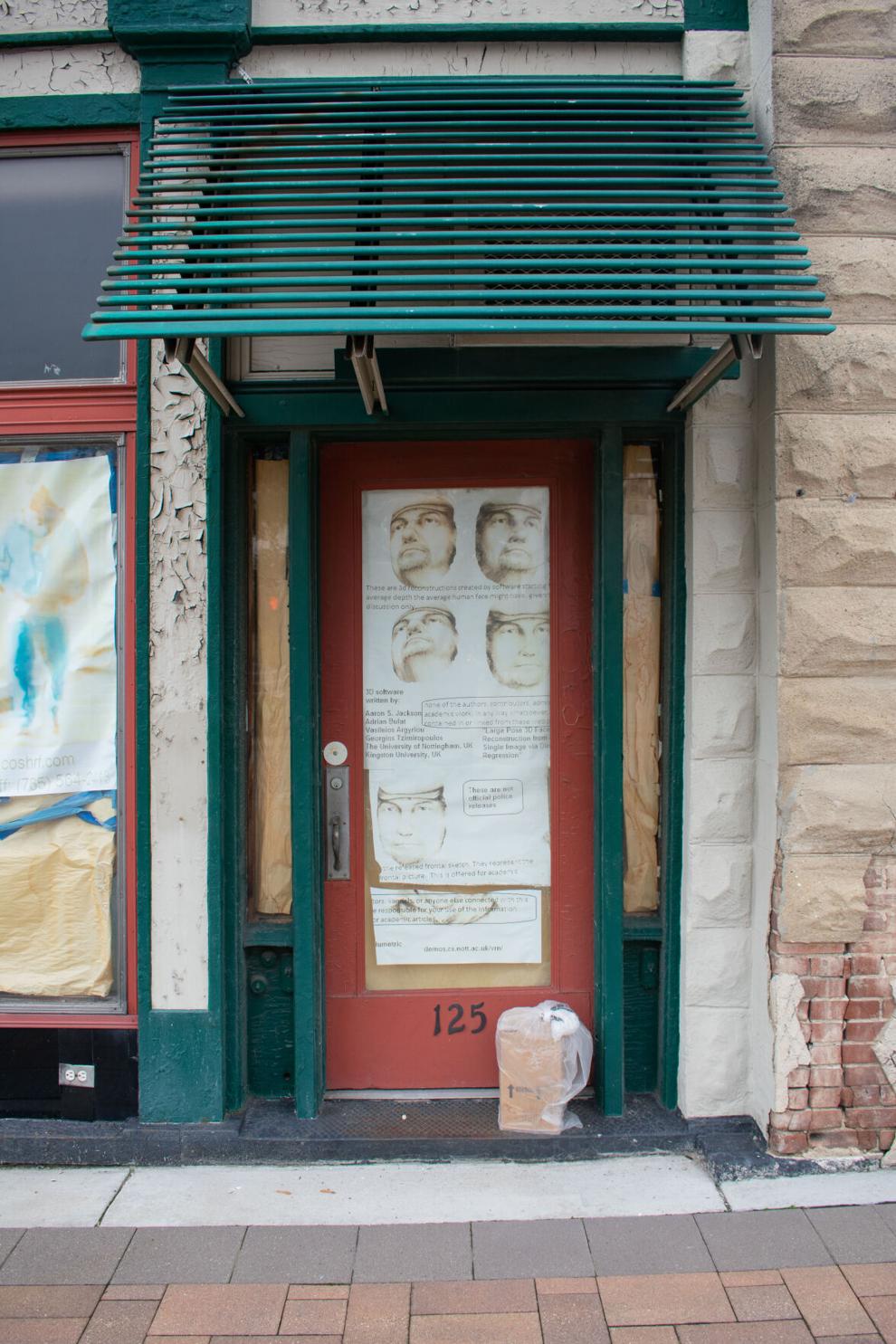 Across the street from the century-old limestone courthouse, a worn-down beige apartment building has huge signs plastered onto its ground-floor windows bearing faded sketches of the suspect's face. One poster pleads with passersby to send any tips to the Carroll County sheriff's office.
Steps from the corner apartment building is Stone House Restaurant and Bakery, its door adorned with a smaller sketch. When Abby and Libby died, the bakery made heart-shaped cookies with the girls' names frosted on and donated money from sales to the suspect's bounty fund. As of today, whoever exposes the killer will earn $250,000.
Lisa Delaney, 53, has lived in Delphi her whole life and has owned Stone House for 20 years. She created a new cookie called the Angel Crisp to honor the girls' memory. Both her husband, a fireman, and her daughter were part of the community effort to find the girls, who were initially believed to be missing.
"When the girls were found gone, dead, everybody in the community — all of our hearts broke at the exact same time," Delaney said when we spoke later that day. "It was too personal. They took our kids."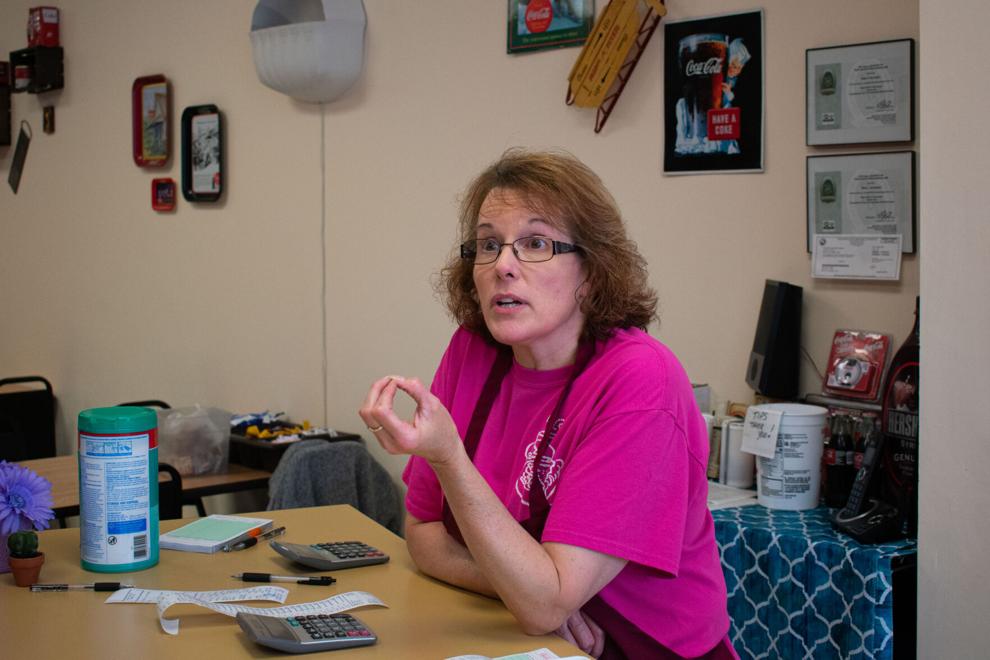 The Delphi City Building is a block east of Stone House, and its top floor houses two county police detectives constantly investigating the double-homicide case, the sheriff says. Delaney said when investigators claim to have a lead, the entire community holds its breath. When the lead is a dead-end, all are deflated as if they're anxious family members.
When they find the suspect?
"We all owe him a serious ass-whooping, you know what I mean," she said. "This person should be put up on some sort of a cross on the courthouse lawn."
A block north of Stone House in Wallmann's Quality Foods, owner John McKean, 62, remembers 40 to 60 police cars clogging the square's streets after the girls' bodies were found.
Local and state officers, as well as FBI agents, packed a brown-brick, two-story building on a corner near the courthouse for months. National media descended on the small Indiana town.
"I deal with grocery companies in Tennessee, and you'd go to meetings in Tennessee and say you're from Delphi, everybody knew," McKean said. "Prior to that, you'd say Delphi and they'd go, 'Huh?'"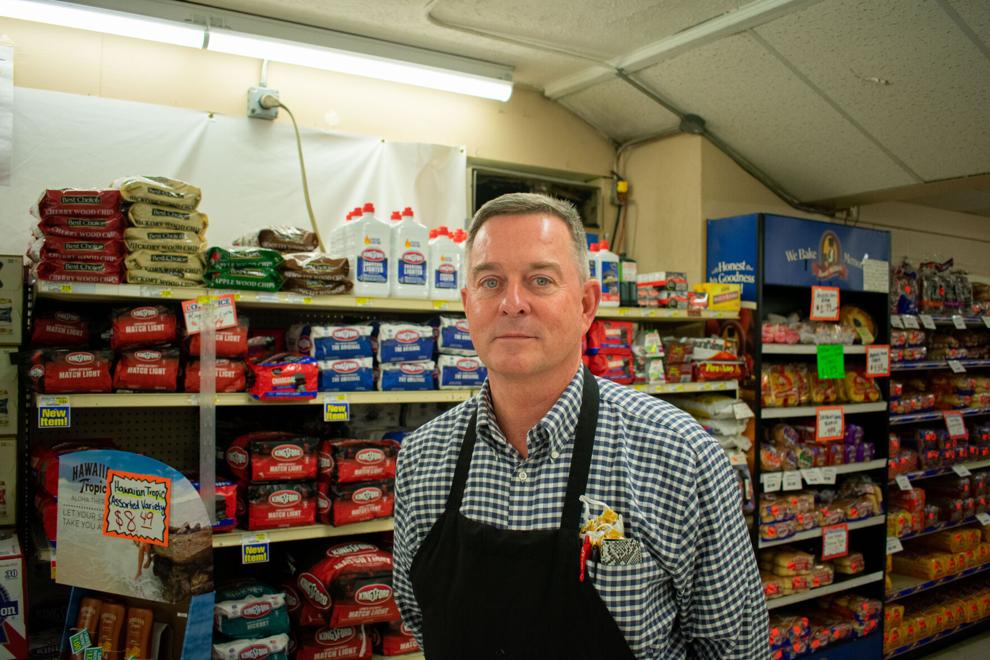 McKean said he buries the negative feelings in the back of his mind, only for them to resurface in force with each anniversary. Likely until the case is resolved, he said, a feeling of apprehension will continue to cloud the community.
Kelsi says she struggles to be downtown. Her grandparents' ranch is about 10 minutes from the square, its isolation offering respite from her spotlight as Libby's sister.
Each time she visits Delphi, the case's notoriety looms large.
"People won't actually talk to us because they don't know what to say yet," she says.
Several months after the murder, she had a job at a sandwich and ice cream shop called The Blue Moose, directly across the street south of the courthouse. One of Libby's quotes is painted across the top of an ice cream truck out back: "There's always room for ice cream."
Trish Mendel, 47, owns The Blue Moose and remembers employees coalescing to support Kelsi. Strict rules were in place to ensure she felt safe at work.
"We were just really careful with her. You know, when Kelsi goes out, you walk her to her car, make sure she gets in her car OK," she said. "Because you don't know where this person is, who they're watching, what's going on."
Delphi used to be a town where people felt comfortable leaving car doors unlocked, Mendel said. Its small-town bubble, with neighbors holding neighbors accountable, insulated it from the violent crime that ravaged large Midwestern cities like Chicago and Indianapolis.
When two innocent girls were killed while taking pictures on a walk, the bubble burst. The town is stunned to this day.
"The family needs justice. They need this done," Mendel said. "They shouldn't have to wait 20 or 30 years … Somebody knows who did it."
People differ on whether the Monon High Bridge trail should fade into history, permanently stained by the tragedy, or be reclaimed for its beauty and history.
Mendel visited the old railroad bridge for the first time in 2016 to take senior pictures with her son. Then, she found it dangerous; now, it's become an omen.
But Kelsi remembers when a group of 100, led by the pastor of Delphi United Methodist Church, marched to the trail in May 2017 to erase the fear that had warded off residents in the months after the incident. Since then, the Wabash & Erie Canal Association has installed cameras at the trail's new entrance to promote safety and plans to begin renovating paths.
Association president Dan McCain, 79, grew up in Delphi and remembers hiking the trails being a rite of passage for young people.
He said parents used to be unafraid to allow children, drawn by their adolescent quest to explore the outdoors, to embark alone. Now, it seems to him, Delphi avoids the historic trail system. People walk in pairs of two or more, and women trek with pepper spray or weapons.
McCain said he understands and encourages these precautions. But his mission, supported by a grant of nearly $1.3 million Delphi received from Indiana's Next Level Trails initiative, is to repave overgrown paths, shore up eroded embankments and install solid decking and railings on the wooden bridge. What was a bridge spanning the river will be transformed to a lookout, blocking off the other side to hikers.
"It's just about to be reborn," he said. "As unfortunate as (the incident) was, should we let that control our lives for the rest of time?"
One more piece
Kelsi, same as other students, was deflated when Purdue canceled in-person classes in mid-March and she had to return home. Some suffered from a lack of quiet workspace; many felt sapped of motivation, attempting to maintain a scholarly guise as the world seemed to crumble.
Kelsi German opens her bedroom door and has to stare into the room of her dead sister.
Libby is everywhere in the house. Painted rocks with family photos glued on sit on the outdoor tables. Orange light bulbs illuminate the porch every evening, a symbol adopted statewide to indicate the killer is still at large.
Libby's room is untouched, as if she might return from school in the afternoon, except for stacks of case documents compiled throughout the years, Kelsi says. Kelsi spends a lot of time in the room, regardless, reading through her sister's old journals, discovering what she thought about in the months preceding her death.
Sometimes she talks to Libby, she says.
"Which sounds really crazy, because she's not there," Kelsi admits. "But no matter what I'm going through … talking like I'm talking to her helps me kind of think through things.
"I also ask her to tell me who he is a lot, but she hasn't done that yet."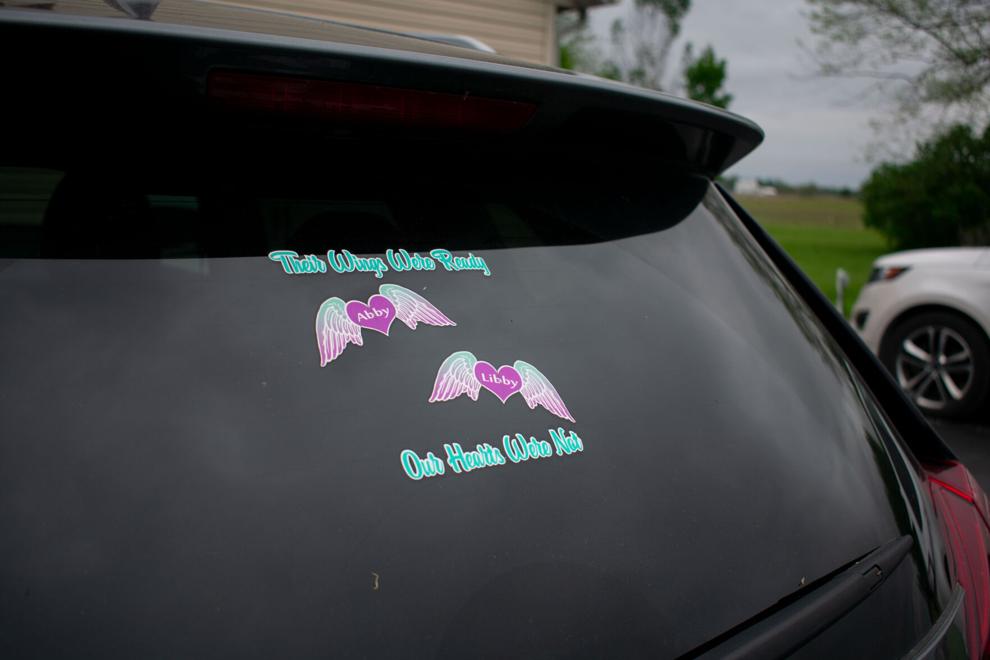 Forty-thousand to 65,000 tips, depending on who you ask. A national spotlight that's exceeded any case of similar scope. Two sketches, a photo, a video and an audio recording of the man on the bridge. A coordinated investigation between the Carroll County sheriff's office, Indiana State Police and the FBI.
And yet the question Kelsi implores Libby to answer as she sits in her sister's room remains unanswered.
Each of the business owners I talked to expressed weariness about the ongoing police investigation. Constantly, they're being told "one more tip," casting doubt on the completeness of the information detectives have on any suspect.
Yet, counterintuitively, no one doubts the case will be solved. The evidence is inconclusive not because of a wanting quantity of tips, but a missing puzzle piece. As Carter puts it, "One final piece makes the complicated equation whole." Someone is "scared to death" to identify their brother or father or husband or co-worker.
"If there is something that we don't have yet, it's because it's not there," said Delaney, the bakery owner. "That piece of that puzzle, somebody's got it. And at the right time, it's gonna be laid down somewhere."
Carroll County Sheriff Tobe Leazenby stressed that acting on incomplete evidence might weaken the prosecution's case, potentially spoiling the one chance to imprison the killer.
"If a prosecutor doesn't get it right the first time, that's our only chance," the sheriff said. "We want justice for Abby and Libby. But we don't want to do it at the expense of potentially losing the criminal case in our courtroom."
Kelsi says she's taken a step back from the multiple media interviews she used to do every week. Now she limits herself to one or two, spending more time with friends, walking her dog, exercising.
She's set a schedule to limit her Twitter use. A couple of days each week, her efforts are full-fledged, balanced by entire days spent away from hundreds of mentions and messages.
Rarely these days does she impulsively do interviews; her list of hundreds of journalists and podcasters has lately grown more slowly. She's given herself until she's 25 to advocate and interview at her current level.
How, knowing that finding the killer won't bring back the girls, can she maintain such fervent effort for five more years?
"I'm going to keep putting myself out there until we find him. Because I lost my best friend. … And all Libby's friends, too, deserve to know what happened to their best friend," she explains. "Being able to close that chapter and go on to the next one will let us move on and live our life knowing we did everything we could to solve this."
The loss of a family member becomes part of you, her grandmother says. Even if she wanted to, Kelsi couldn't wrest herself away from helping others cope with tragedy.
She cannot erase the feelings of intense loneliness and shock that overtook her on the day the girls' bodies were found, and the prolonged dull ache in the years that followed. Kelsi's understanding is a blessing and a curse: It allows her to help others but permanently binds her to the most painful memory she's experienced.
"We've been thrown into a club, a club you don't wanna be in," Patty says. "So Kelsi will always be there to help others, other siblings who are going through this."