Tucked within a row of shops along the north side of Main Street is an inconspicuous building that, upon further inspection, is filled with cats napping in playhouses, smooshed against sidewalk-facing windows.
When you walk inside, you find shelves of mugs, single-serve coffee capsules and machines, as well as a refrigerator with cold refreshments and merchandise hanging on a brightly painted wall. You smell freshly brewed cups of joe and the subtle, somehow soothing scent of kitten fluff. You hear muffled indie-pop music emanating from the lounge.
"Oh, gosh!" Kennedy Van Meter exclaims as she scoops up a speedy, gray-furred bullet who's just bolted toward the door to the outside world and, in her mind, freedom.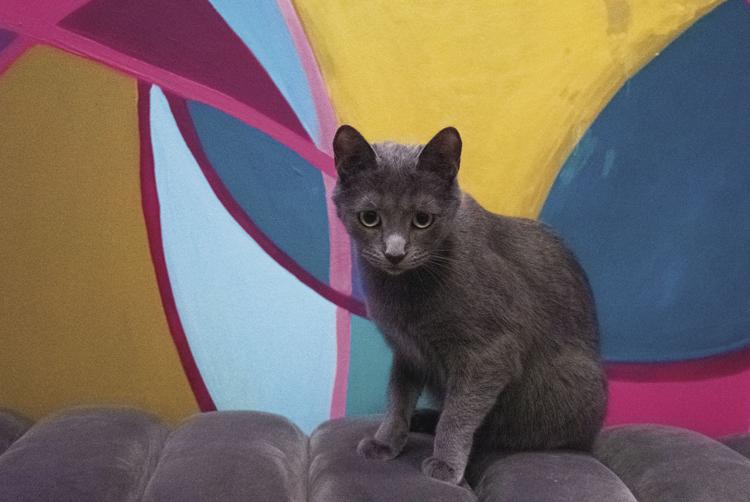 "She got adopted yesterday and is going home tomorrow, and I think she knows it," she says, walking back toward the lounge area and returning Sabrina to the lounge.
This is Lazy Cat Lounge, Lafayette's only, and Indiana's third, cat cafe.
Van Meter, 25, started the business in November with her husband after working at Almost Home Humane Society and noticing an issue in the community: the disconcertingly large feral cat population.
"When I first moved here, I worked … in the cat section of the shelter," she said, "and I just saw we always had way more cats than we could handle."
Lafayette Animal Control takes in an average of 208 feral cats per year, Lafayette Police Lt. Matt Gard said in an email on Wednesday.
Animal control officers take "all the animals they acquire to the Almost Home Humane Society," Gard added. "The city of Lafayette is contracted with this nonprofit and all animals must be taken there."
Given the feral population, coupled with the amount of animal surrenders the shelter sees, Almost Home has a two-month waiting list, said Mona Martinek, treasurer of the cat-rescue nonprofit My New Cat, which is partnered with Lazy Cat Lounge.
Van Meter said she hoped tomitigate the shelter's overpopulation problem by opening a cat cafe, inspired by her time abroad in Japan where the cafes are really popular.
Apparently they're really popular in Greater Lafayette, too.
When Lazy Cat Lounge opened its doors, the response was overwhelming, Van Meter said.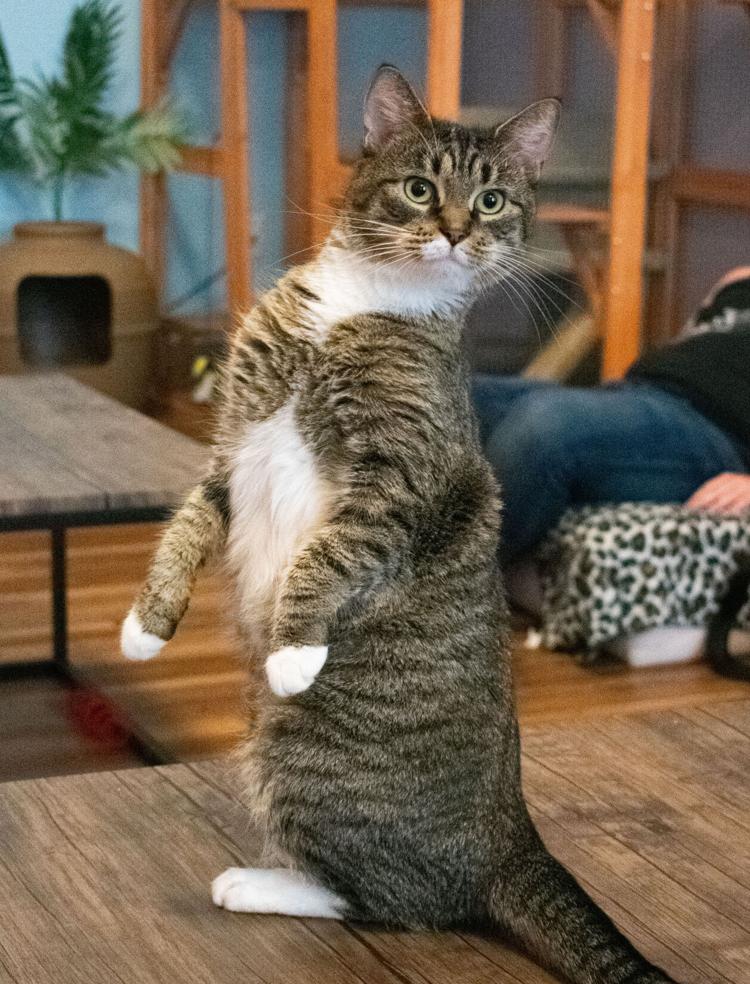 "Immediately, off the bat, we had a whole bunch of customers, a whole bunch of adoptions," she said. "On the first day, we did 10 adoptions — almost all the cats we had on the first day got adopted.
"That was awesome."
And the business didn't show any signs of slowing, Van Meter says, with the cafe's largest portion of its clientele being Purdue students who came in to write their papers or meet for group projects.
High rates of adoption continued into February, she said, and Lazy Cat Lounge was on track to make 350 adoptions by the end of 2020.
It was looking as though nothing could stop this local business owner on a mission to help curtail the community's stray cat population.
Then the pandemic rolled around, and the cafe was forced to close.
Off the beaten path
Van Meter wasn't always destined to run a cat cafe in downtown Lafayette.
Originally from Bloomington, she attended Indiana State University to study theater and, prior to moving to Lafayette, landed a job at Disney World as a performer.
But it seemed the world had other plans for her.
"I actually had to stop working at Disney and move back home," Van Meter said. "I have an autoimmune disorder called POTS, so I can't regulate my own blood pressure or heart rate anymore. I need medications to do that for me."
POTS, which stands for postural orthostatic tachycardia syndrome, is characterized by "too little blood returning to the heart when moving from a lying down to a standing up position," according to the National Institutes of Health.
Because of her illness, Van Meter says she's prone to fainting spells and often experiences periods of time in which she is unable to stand or walk around.
"So I don't do theater anymore … obviously because they don't want you to fall over on stage," she said, chuckling.
Van Meter neither studied business nor had any prior experience in owning one, other than living with her parents who own a home inspection company. "But that's OK," she said.
"I think that helps when you really love what you're doing," she said. "It makes it easier."
Still, the pandemic complicated things.
Lounging in a COVID-19 world
The pandemic not only complicated growth for her new business, Van Meter said, but put a halt to her overarching goal of helping the cats of Greater Lafayette.
"We want these cats, of course, to get homes. So not only on a financial level, but it was emotionally hard, too," she said. "We had to send all the kitties back to their foster families.
"That put a pause on finding their forever homes for a while."
Lazy Cat Lounge closed a week before Indiana Gov. Eric Holcomb announced a stay-at-home order in March, Van Meter said. During the shutdown, she applied for and received a grant from the Small Business Administration.
"That was nice for the two months that we were closed," Van Meter said. "We were able to cover rent."
With the cafe now open in a completely different environment, new challenges have arisen.
Prior to closing, a maximum of 15 people were allowed in the lounge. That's now been decreased, Van Meter says, to eight so that "with two staff members, there are no more than 10 people in the building at any one time."
And with the cafe's largest customer demographic out of town, she says business has waned significantly.
"Saturdays were our biggest days. We would usually be booked out: 15 people every hour, every Saturday," she said. "Versus now ... maybe we get two to three people an hour."
Van Meter said it's been intimidating. Attempting to grow her new business, she's been at the cafe every day since it reopened, despite her autoimmune disorder.
"It doesn't affect my respiratory system at all thankfully, but (my doctors) have advised me to be careful," she said. "So I'm doing the best I can even though it's a little bit scary.
"We're hopeful," she says, looking down to pet Ariel, who's just come up on the couch to sniff around. "We're just trying to stay afloat."
Helping Ariel, along with all her feline roommates, find a forever home is the sole reason Van Meter comes to work every day, steadfast on remaining open.
The love and passion she has for taking care of the cats gives to blues when saying goodbye.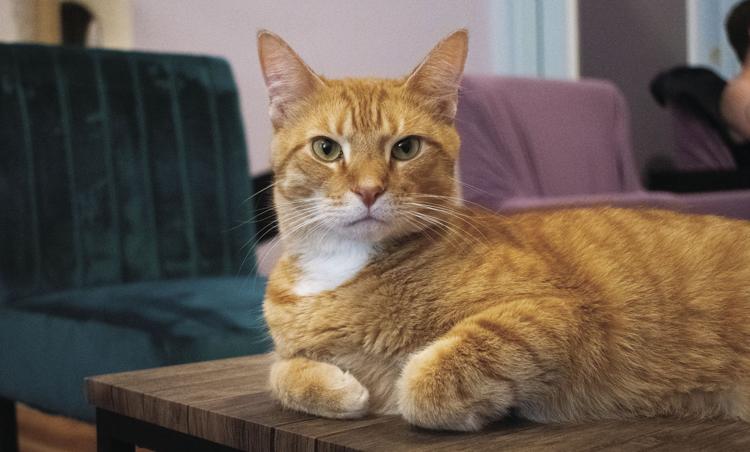 "It always pulls on my heartstrings whenever we see a kitty find its forever home," Van Meter says. "It's always a little bit sad to see them go, but then that means we have a spot open for a new cat we can help."
She looks over at Tigg sprawling himself out on the coffee table.
"That's the silver lining."
Continue reading: