When asked about his recovery and return to the football field, Lorenzo Neal changed the subject.
"I wanna start this off saying rest in peace George Floyd, rest in peace Breonna Taylor, any victims of police brutality," he started. And then: "I feel good, I feel great, I'm ready to play football."
It was Monday, and Neal, a fifth-year senior and defensive tackle for the Boilermakers, had just sat down for a virtual press conference. Still in his practice jersey, Neal wasted no time telling reporters exactly what was on his mind.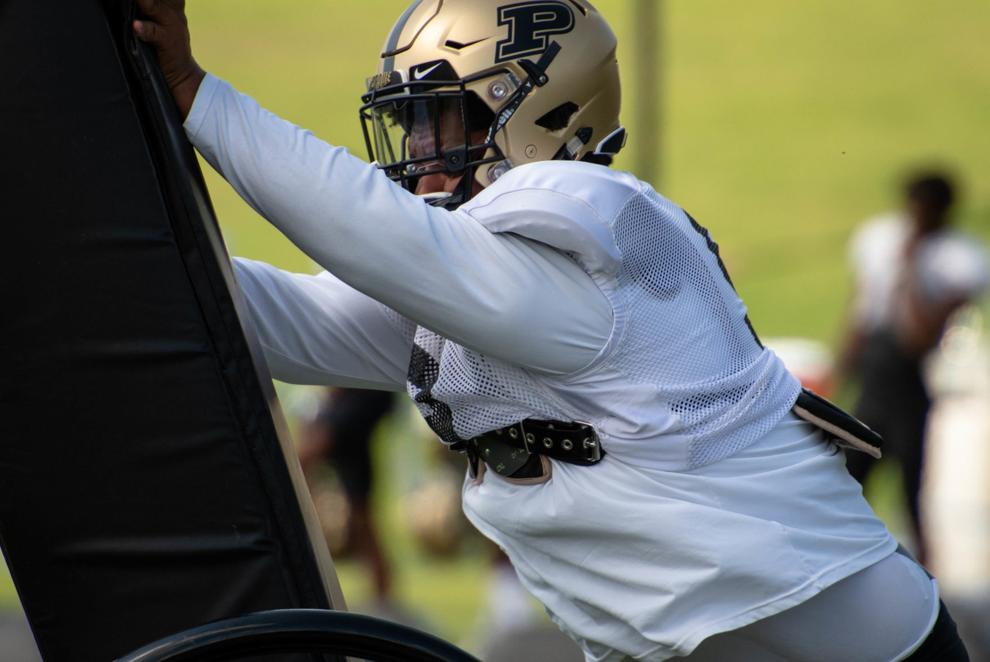 When an Exponent reporter asked Neal what techniques had helped him to recover from his long-lasting knee injury during the offseason, his response had nothing to do with football.
"Well I do wanna say, I think that over these last what, nine, 10 months since the pandemic has started, I think a lot of awareness has been made to social justice causes, especially the treatment of minorities of our communities in America, especially," Neal said. "And I think that's really important for us to keep that narrative going, because we have a lot of work to get done as a country.
"And I think it's really important that when my kids grow up they get to live in a world where we're all treated equal, regardless of our skin color (or) where we come from. So that's always really important to me."
This is not the first time Neal has addressed social issues. Just spend a few minutes scrolling through his Twitter account and you'll know exactly what he stands for.
Hearing a student-athlete be so outspoken resonated, and Neal has set a precedent that should now encourage other student-athletes to speak their minds.
But speaking candidly has not been the status quo recently among Purdue student-athletes.
Peyton Stovall, associate athletics director for student-athlete development, said the department has worked internally to improve awareness and action regarding race.
"If you want great change, you gotta be educated," Stovall said. "If you wanna be educated, you gotta listen. You got two ears, you gotta listen."
When asked Tuesday if Purdue Athletics has any rule against student-athletes advocating for social causes or talking about them to the media, Stovall said the department has "no policy in place."
"I think that would totally go against everything that we've tried to accomplish over the last five to six months," he said.
The Exponent received a similar statement from Boiler Gold Rush staff in August about students talking to the media. Orientation administration assured The Exponent that there was no policy against it.
But having been a BGR leader myself, I can assure you that we were explicitly told by our supervisors not to talk to the media in any situation.
I'd guess that a similar thing is happening within Purdue Athletics.
Over the past eight months, I have been denied opportunities to speak with student-athletes or other athletics staff on anything considered "controversial."
This included Black Lives Matter protests; the politicization of COVID-19; the postponement of fall sports and later reinstatement of football; and even outlooks on a potential spring season for some fall sports, such as volleyball.
Nothing was fair game. We were left with very little to talk about during a period in which there is so damn much to talk about.
So — admittedly, I'm a bit of a renegade — I asked those questions anyway.
I asked a volleyball player about her thoughts on a potential spring season. Before she had a chance to answer, volleyball's sports information director cut me off, telling me my question would not be answered.
I then tried to ask the same player about the Black Lives Matter movement, wondering how this Black athlete felt about seeing professional athletes take powerful stands against racial injustice in America.
The response?
"Sorry about that Joe," the SID said. "Purdue Athletics is not commenting right now about that, so we'll go to the next question."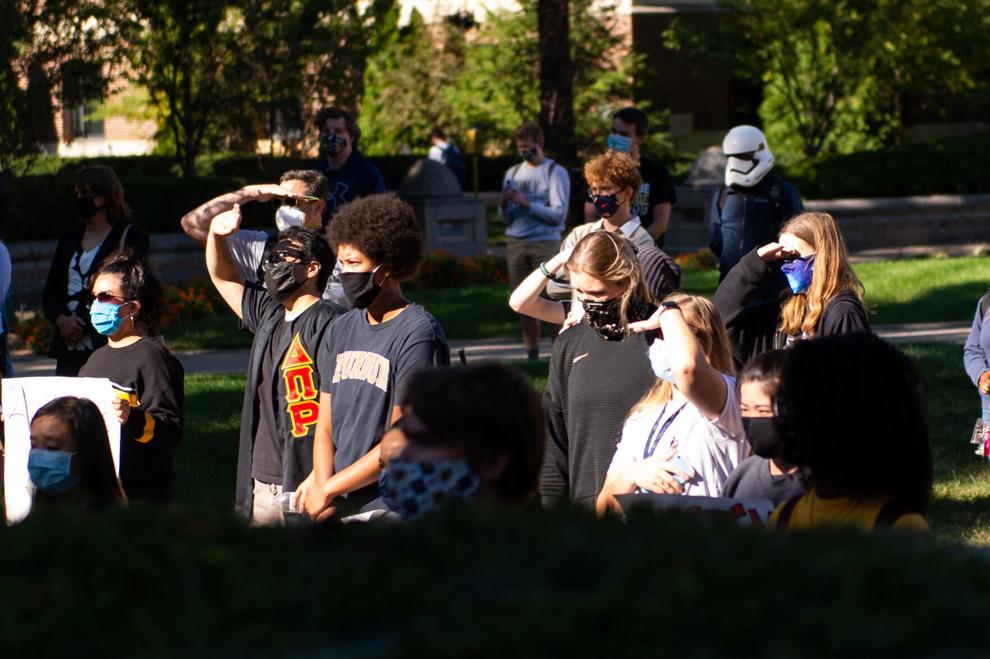 Kassidie Blackstock, associate athletics director for strategic communications, said Tuesday in a phone call that the department will never prevent student-athletes from speaking out. Instead, she said, the department works to support student-athletes and "make sure they aren't put in an uncomfortable position."
I can understand an athletics department that is cautious about student-athletes' words being misrepresented. But being cut off before that person even gets the chance?
Come on.
Stovall said he and the rest of the athletics department are in full support of student-athletes like Neal voicing their opinions on Twitter. And I've seen tweets similar to Neal's from the likes of basketball player Aaron Wheeler and now-former Boilermaker Nojel Eastern. 
But my intuition is telling me that if more than 600 student-athletes truly were not being discouraged from speaking, a lot more of them would be.
During one of the half-dozen racial-justice protests that have occurred on campus this semester, an Exponent photographer spotted multiple volleyball players participating. When he tried to talk to them, however, he was referred to their SID.
Back in June, fifth-year senior defensive back Simeon Smiley organized a march of more than 20 football players and staff members from their practice facility to the Tippecanoe County Courthouse. Multiple media organizations covered the event, but not one of them reported direct quotes from the student-athletes present.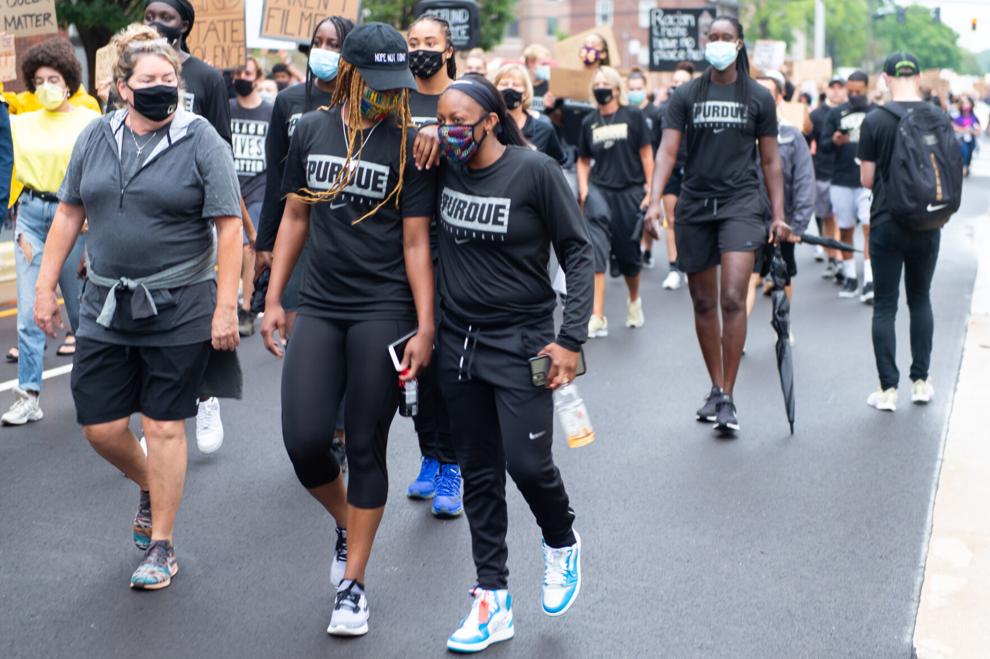 Professional sports have always been a venue for social justice. Activism was seen in 1967, when Muhammad Ali refused induction into the U.S. military as a denunciation of the Vietnam War and a stand against racial injustice in America. It was seen even earlier in 1947, when Jackie Robinson became the first person of color in Major League Baseball.
The presence of activism in professional sports has gained prominence, though, since Colin Kaepernick famously took a knee during the national anthem in 2016. Since then, players in the NFL and NBA have been especially vocal in their fight for racial equality, despite the massive backlash Kaepernick received.
I would expect college athletes to follow suit.
And regardless of Purdue Athletics' position, it seems as though they finally are.
When Neal started talking about racial justice on that Zoom call, he had broken from the norm. Here was a man who knew that reporters had no intention of asking him anything political — not necessarily because they didn't want to, but because Purdue Athletics had chided them for doing so in the past.
So he just cut out the middleman and spoke his mind.
The whole time Neal was talking, I wanted so badly to engage him on these topics. To ask him what he thinks of Purdue's institutional response. If he thinks Athletics has done enough to support him. If he would like to see more.
But I didn't. I kept quiet. Because I was scared of the potential repercussions from sources within the athletic department on whom The Exponent relies for information.
Lorenzo Neal didn't give a damn about any repercussions.
At the end of the press conference, Neal made one final statement.
"We like to have conversations as a group about different backgrounds and where we all come from, and a better understanding of how we see America to us, 'cause we all have different interpretations of it," he said of himself and his fellow defensive linemen. "And we've all been treated differently throughout our times growing up.
"So it's really important for me to talk to my teammates about that kind of thing, and social justice initiatives, 'cause I think that's really important going forward. Like I said, I want my kids to grow up in a world where we're all equal, and we don't have to be judged by the color of our skin or anything like that."
Neal's intentions here are crystal clear: His voice matters, and he wants everyone to hear it.