It's not easy to stand out as a caring employer in the restaurant business. But it's the right thing to do. The concept is pretty simple: create an environment where your staff thrive, and you create an environment where customers want to be. Of course, delicious food helps.
Welcome to East End Grill, where staff from all kinds of backgrounds say the family-like atmosphere and outstanding support from leadership make for an exceptional place to work.
"We're valued. I love how we are valued," said Cara Behringer, one of East End Grill's original servers and now a full-time manager who is also a training lead. The restaurant is celebrating its five year anniversary in 2021.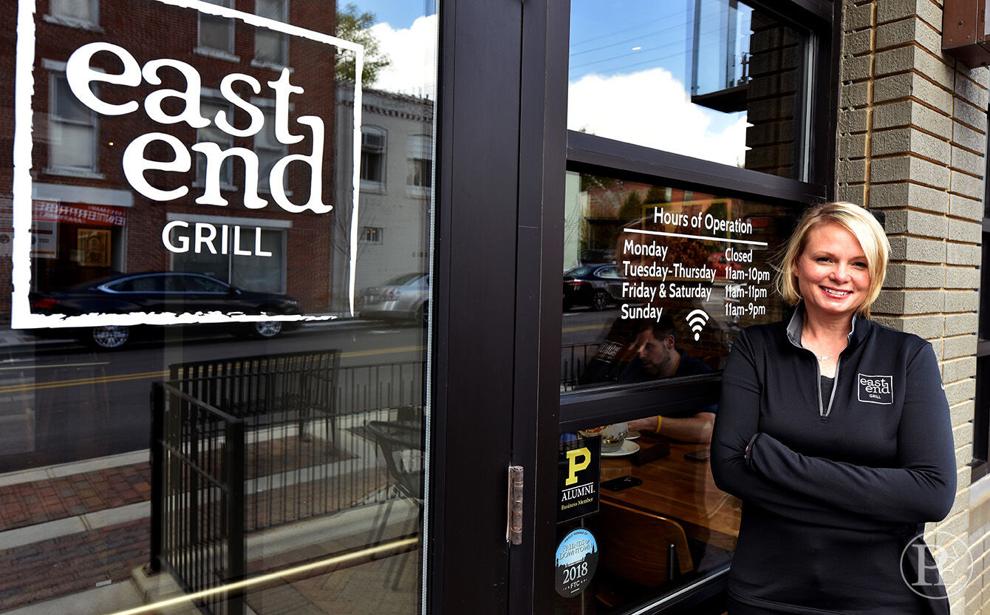 "It all starts with the owners and management. We have a professional atmosphere, but at the same time, it's like a family. We have loyalty, friendship, low turnover, and we are always busy," Behringer said.
Unlike most traditional restaurant careers involving family-owned businesses, East End Grill offers full time staff two weeks paid vacation, a 401k with a 3 percent match after one year of employment, and the company pays 65 percent of health insurance premiums.
Sarah Wheeler, a host who has worked at the restaurant for about four months as of April 2021, also is a full time student studying kinesiology. She said she felt good about the job from day one.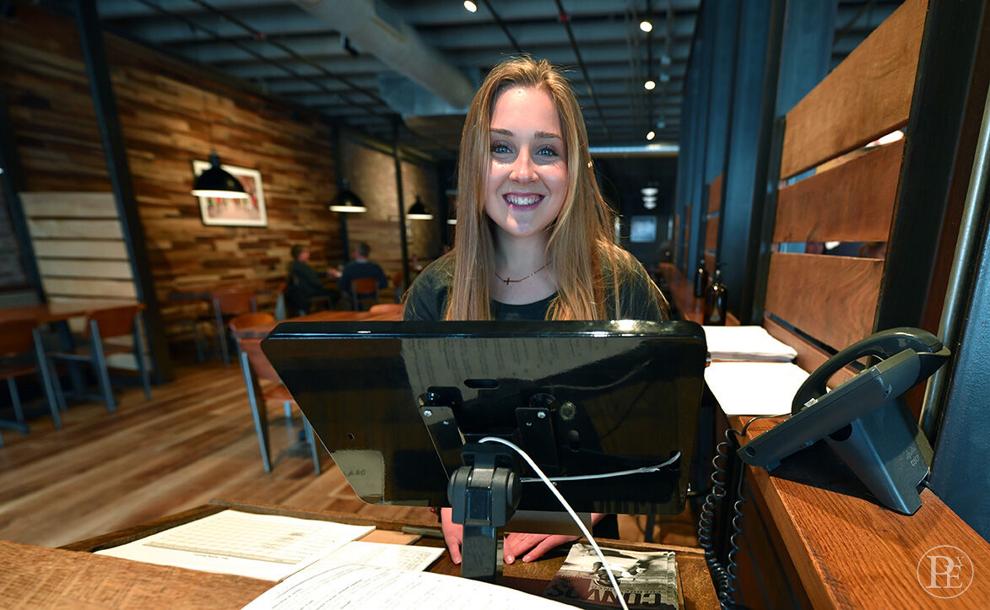 "A positive attitude is valued here, and I can tell that a positive management style is a core value of East End Grill. It helps us better serve and deeply appreciate our customers," she said.
Rachel Bonkoski has worked as a server and trainer at East End Grill for two years, and said the initial draw for her was that it wasn't a chain restaurant.
"I've never worked at anything but a local business and I take great pride in that," she said.
The owners of East End Grille opted to invest in the east side of downtown Lafayette to help revitalize the area. They saw opportunity, but also feel responsible for giving back and contributing to a vibrant and sustainable downtown community. One of the owners is a Purdue hospitality and tourism management graduate.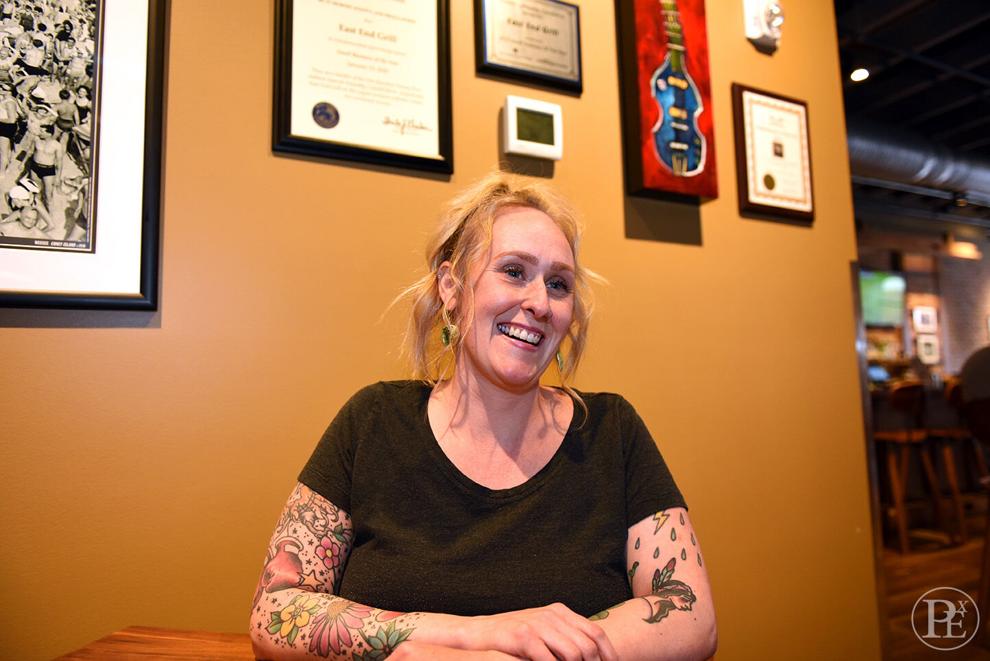 "Our owners and managers always want to know what we think, because we are the ones taking care of customers. It's a great place to work because we all tend to learn from each other. I often see new staff come in and they are thinking, 'This is the place I'm going to work,' but then they end up making even better connections than they thought," Bonkoski said.
One of East End Grill's most delicious seasonal desserts, the lemon blueberry cake, is the curation of sous chef Haley Garrity, who has been with East End Grill since it opened. She was fresh out of culinary school at the time and has found a kitchen family that fosters creativity and trusted teamwork.
"I want people to know that the reason they enjoy dining at East End Grill so much is because the kitchen atmosphere is great. We get along really well. Your voice will be heard here, and we all encourage each other to do better," Garrity said. "Whether it's how to plate dishes better or how to execute something differently, we all know what we are here to create really good food and support each other in the process."
Server Drew Occhipinti has been at East End Grill for just over a year as of April 2021. The Purdue University junior with a double major in economics and political science doesn't have a lot of free time, but he looks forward to filling it with shifts at East End Grill.
"The people I work with are the closest friends I've had since I've been at school, and it makes for a great work environment," he said. "They offer very flexible scheduling so I can work around my class schedule and school work and there's never any question about that. They want staff to succeed."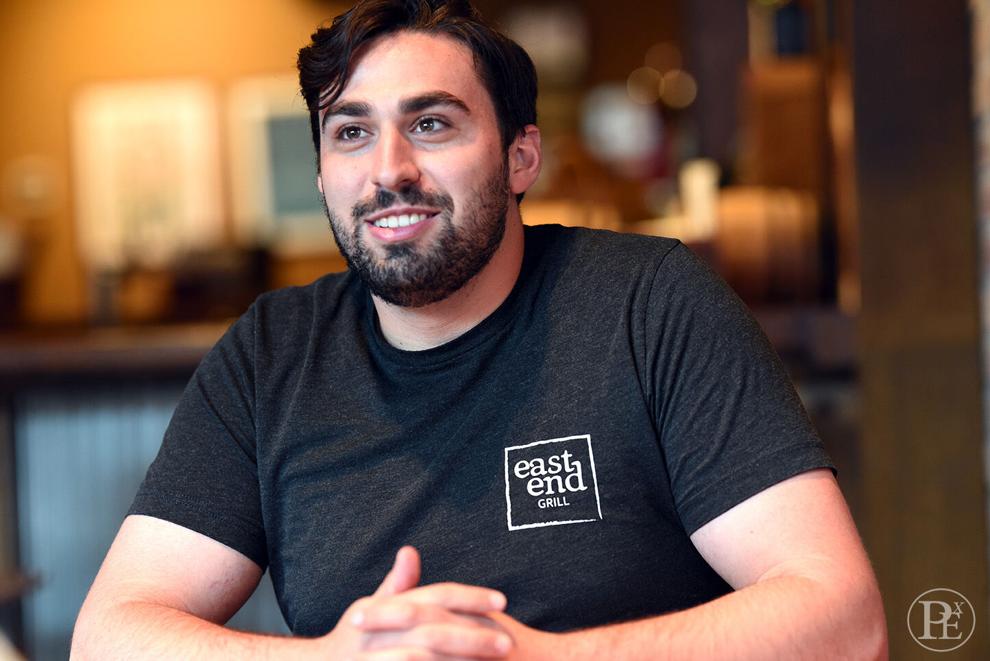 Occhipinti said the restaurant's set-up also makes for an ideal environment.
"We have three table sections and the set up allows us to focus on hospitality and give customers an attentive experience," he said. "The design of the restaurant offers a good, natural flow for everyone.
East End Grill is located at 1016 Main Street, Lafayette. They are hiring part time and full time staff in multiple areas. To apply, visit https://eastendgrilljobs.com/.
Side Dish
The staff at East End Grill draw joy from their interactions with customers. Here are a few great quips from staff.
"As the community is opening back up, I've really enjoyed seeing couples return for dinner. One of them came in the other day and it was their first time out in a year. It struck me that this is the place people want to go first when they haven't dined out in a year." – Drew Occhipinti, server
"I love seeing first dates. They are easy to spot, and it's so nice to know that this might be where someone gets to start a lifelong love. We have a way of helping them feel welcome and relaxed. I also like when I see people pray before a meal. It is so sweet." Sarah Wheeler, host
"I love how we have a nice mix of students, local residents, and a variety of clientele. They are always so happy to walk through the doors." Rachel Bonkoski, server