While many students were off for summer break, Purdue volleyball was too busy to slow down.
The team saw many opportunities to prepare itself for the upcoming season, including a team trip to Europe and players opportunities to play in other events throughout the summer. As well, some incoming players began playing with the team early to build chemistry before the first serve this season.
Europe
The Boilers kicked off their summer early in May, traveling to Europe for a tour through Slovenia and Italy. While taking in the sights, they faced international opponents seven times.
"We played a really tough schedule and I think, performed pretty well for an offseason, May performance," said head coach Dave Shondell.
Much of what these matches did was help to teach the team new ways to approach the game of volleyball and its chemistry.
Senior outside hitters Azariah Stahl and Danielle Cuttino both found new ways to play around the net from their international opponents.
"College volleyball and international play, even if it's at the same age level, it's not necessarily the same game," Stahl said. "Some teams do a lot of unorthodox things you don't see here in the states."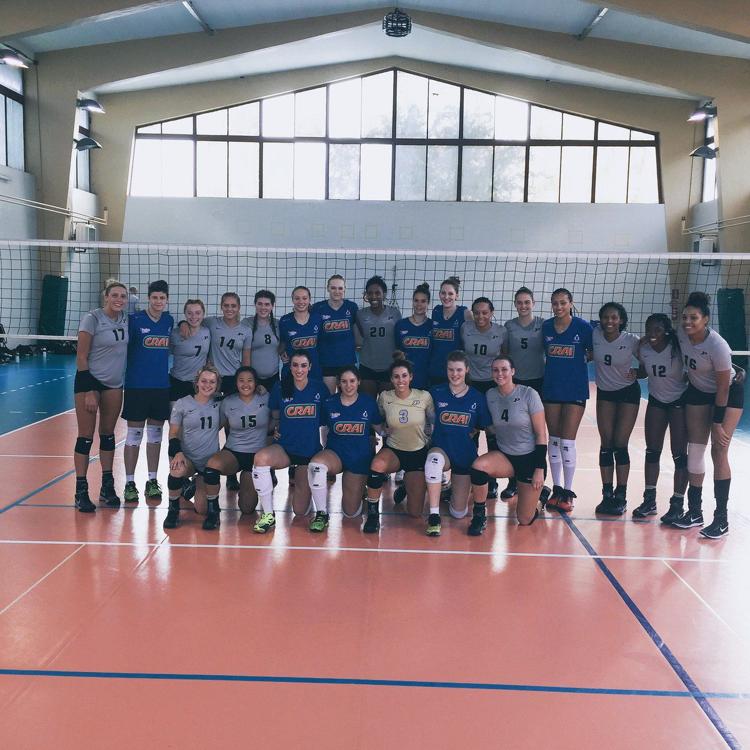 They found the other teams' abilities to react to common patterns on the attack and defend against them different than domestic styles.
"Internationally, you have to learn to mix up shots more and be smarter as a player, hitting the ball hard in the same spot isn't going to cut it there," Cuttino said.
Junior outside hitter Sherridan Atkinson saw the team start to connect more on the court. A mental connection that made or broke their matches.
"I learned that the competition on the other side of the court isn't necessarily what we need to focus on so much as what we're doing," she said. "Some games our team chemistry was out of this world and we did great and the score showed that, other times our chemistry wasn't as great and the score showed that as well."
Between match days the team took time to travel and eat many different foods. Gelato, pasta, cannoli and tiramisu topped the list for some of the team.
After traveling through Europe with the Boilers, Cuttino returned in the middle of June with the Big Ten Volleyball Foreign Tour Team traveling through the Czech Republic, Slovenia, Italy and Austria. The team consisted of one player from the 14 teams in the Big Ten and was coached by Maryland head coach Steve Aird.
Cuttino said the team only had one or two practices before its first match.
"We had to learn and adjust on the fly," she said.
Team USA Collegiate National Team
While Cuttino traveled with the Big Ten team, senior setter Ashley Evans and juniors Atkinson and defensive specialist Brooke Peters, went to Minneapolis as a part of the Team USA Collegiate National Team.
A 10-day program, the trio practiced with other top players from around the country while being trained by staff from the Team USA squad.
"They implemented the USA culture in every part, on the court and off the court," said Evans. "Everything was run like they do in Anaheim."
Purdue was the most represented team in Minneapolis, with only Louisville as another school with multiple members attending. Shondell hoped that the three would see how strong of players they are for being picked for the team.
"What I hope I see is gained confidence, belief in who they are," he said. "Some 300 players tried out for that team and 36 were picked."
He attended a few matches while in the area recruiting and was impressed with them.
"I thought Evans was the best setter out there and the coaches I talked to said the same thing to me. I'm not sure there was a better point scorer on the court than Sherridan was in her last two matches. Brooke was playing libero so it's a little harder to evaluate how she fit but she really needed that kind of experience and that kind of boost in her self image that she can play against anyone in the country."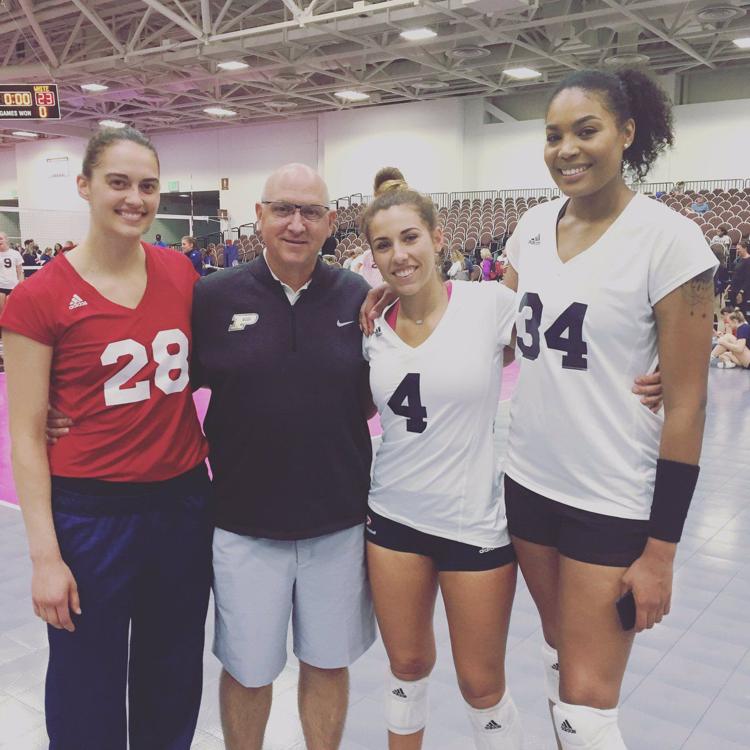 Although Shondell might not have been able to see it, Peters said she came out of the experience with a new mental attitude for when she's on the court.
"I think the biggest thing I took away from it was being more vocal and making myself a presence on the court," she said. "I'm not quiet, but I tend to keep everything in and I realized I need to be more vocal with my teammates."
Roster Changes
From last year's roster, the team has lost three players while gaining five.
Middle blocker Faye Adelaja graduated from Purdue in December and was the only graduating member; senior defensive specialist Linnea Rohrsen has chosen to leave the team to focus on her studies; and sophomore Natalie Haben had her career cut early due to an injury from last fall that prevented her from continuing this season.
To make up for their losses, the team is adding four talented recruits and a junior transfer.
Middle blocker Erin Williams is joining the team from Loyola Marymount University; helping to fill a position that was the weakest depth-wise last year after sophomore Shavona Cuttino fought a leg injury for much of the second half of the season.
Williams was able to join the team on its European tour, building connections with the team throughout.
"It was great that (Erin) was able to get to know her teammates better; she's going to be a real positive contributor to the team," Shondell said.
She's already beginning to feel like a member of a family.
"I think Dave and the whole coaching staff have been awesome. Even Dave's daughter reached out and said, 'If you need a home-cooked meal anytime just let me know,'" Williams said. "It's definitely more of a family feel and I appreciate that."
Coming out of high school are defensive specialists Jena Otec and Julianna Reisinger, setter Hayley Bush and outside hitter Caitlyn Newton. Shondell has high hopes for all four.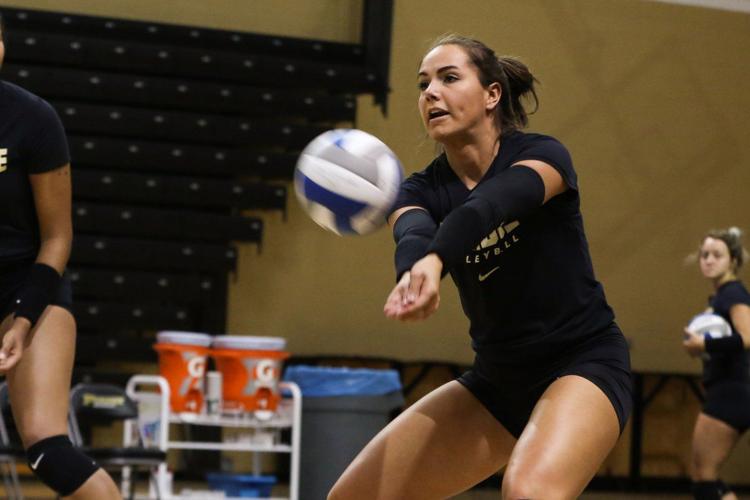 "You've really got four top 100 recruits, Reisinger wasn't labeled as such but really had a great senior season and I think is going to battle for court-time right now," he said. "Otec was a player of the year in Missouri. Newton I thought was if not the best, then one of the two best players in the state of Indiana as a senior, and Bush is going to be a great setter for us. She's a little faster, a better twitch, than anyone we've had before."
Peters looks to be the pick for libero in the season, with Reisinger, Otec and senior Carissa Damler all challenging for the role.
Newton spent the spring training with Purdue and has already impressed the veterans.
"Caitlyn's a rockstar," Stahl said. "With her experience in spring games, it doesn't seem like she needs too big an adjustment."
The Boilers enter the season ranked No. 25 and are the 8th-highest ranked Big Ten team. They will kick off their season at home against Oral Roberts as part of the Mortar Board Premier on Aug. 25 in Holloway Gymnasium.