No. 11 seed Purdue softball fell to No. 3 Minnesota in a hard fought and competitive 4-3 loss on Friday, marking the end of Purdue's Big Ten Softball Tournament run.
The Boilers ended their regular season with a 30-26 overall record. However, while the team has broken positive overall, it has consistently struggled to defeat Big Ten conference opponents with a record of 6-17. Purdue was given the No. 11 seed in the 12 team tournament and was able to upset No. 6 seed Rutgers in the team's opening game. 
Senior first basemen Lexi Huffman had been a consistent defensive force for Purdue softball, sporting a .980 fielding percentage with team highs of 346 catches, 324 put outs and 12 double plays. As Huffman has now graduated this weekend, she reflected on her time as a Purdue softball player.
"This is something we've devoted our whole lives to and it's something that has made us grow into the women that we are today," Huffman said. "And you build beautiful friendships, like most of my friendships are from softball."
Huffman holds fitness in high regard, and although she doesn't have immediate plans after graduation, she has hopes of starting a business and eventually open either a gym or "something in the fitness world," she said.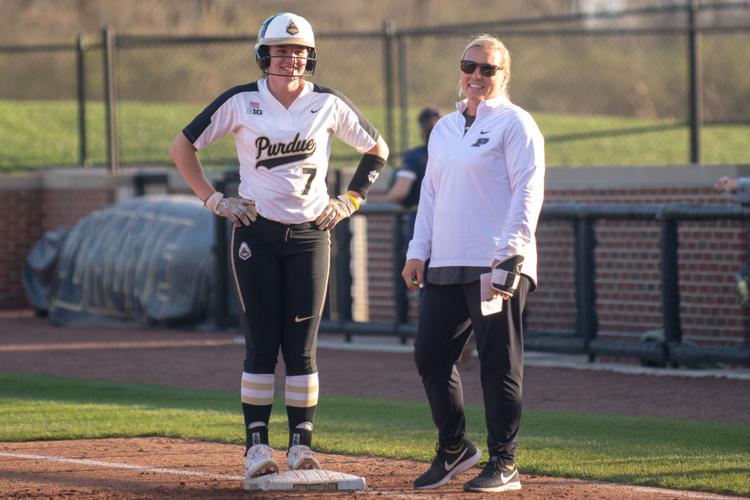 But as Huffman says goodbye to the team, freshman outfielder Kasey Wilhoit reflected on her first season as a Boilermaker.
Wilhoit has been an offensive weapon for the Boilers throughout her first season as a collegiate athlete. She has the third-highest batting average at .323 with 52 hits and 30 runs. Wilhoit is also the only Boilermaker with a 1.00 fielding percentage with over 30 catches. She ended the regular season with 60 catches, 57 put outs and 3 assists.
Wilhoit looks to use the experience from this season going forward into her sophomore year.
"I'm excited, this season has been a learning experience. Coming in, I came from a small school so I didn't have a lot of competition growing up and coming here and being able to play on this team has been amazing for me," Wilhoit said.
The freshmen on the team have played fearlessly this year, Huffman said, and continue to step up late into the season. From the beginning, "they weren't scared to lead … and I think that's awesome, I think that's what any team needs," Huffman said.
Joining Huffman in graduating was senior Jenny Behan