Maddy Williams' big week of honors culminated Thursday with the announcement that the Purdue forward had been selected as a second team All-American by United Soccer Coaches.
Williams' 14 goals, 36 points and six game-winning goals – all tops in the Big Ten entering the conference tournament – each ranked among the top 10 nationally through the end of the regular season. With 14 goals and eight assists in her senior season, she had a direct impact on 22 of the Boilermakers' 36 goals, a team total that ranked second in the Big Ten this year and fourth in program history.
Williams becomes the fourth All-American in the 20 seasons of Purdue women's soccer. She joins Parrissa Eyorokon (2007, first team), Annette Kent (2003, second team) and Kira Bilecky (2007, third team) as the Boilermakers to be honored among the nation's best.
United Soccer Coaches, formerly the NSCAA, announced the NCAA Division I Women's All-America Teams Thursday in conjunction with the College Cup banquet on the eve of the national semifinals of the NCAA Tournament, which culminates this weekend in Orlando.
Williams was already in Orlando this week after earning an invitation to U.S. Soccer's U-23 National Team training camp. The 2017 Big Ten Forward of the Year was also recognized as a first team All-Midwest Region honoree this week.
This year's NCAA Division I All-Americans, along with their families and coaches, will be formally acknowledged for their accomplishments at the United Soccer Coaches All-America Luncheon on Jan. 20 at the Pennsylvania Convention Center in conjunction with the 2018 United Soccer Coaches Convention in Philadelphia.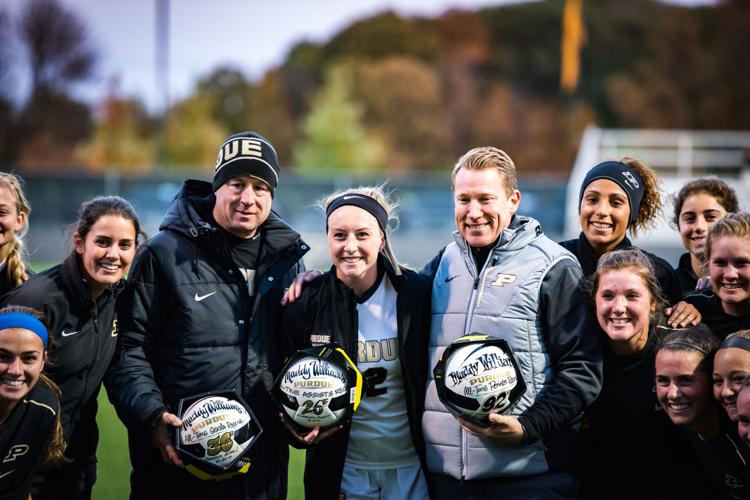 Williams' senior season was not only the top offensive campaign in program history, but it also led the Boilermakers to their finest season of the decade. She returned better than ever from the knee injury that sidelined her for all of the 2016 campaign. The four-year starter finished her career as the program's all-time record holder in goals (38), assists (26), points (102), multi-goal games (9), shots and shots on goal.
Headlined by multi-goal efforts vs. Louisville, Michigan State, Penn State and Maryland, Williams recorded a goal or an assist in 12 of Purdue's 19 games. She also scored in both of team's preseason wins vs. Power 5 Conference opponents Notre Dame and Iowa State. That consistent scoring led the way as Boilermakers found the back of the net in 17 of their 19 games, with the two shutouts against ranking as the fewest in the Big Ten.