In the summer of 2004, Brandon Jones was doing squat reps during a workout when he suffered an injury that would change how he lived his life.
Jones was a "weight room machine," squatting over 600 pounds and benching over 450. As a running back, that paid off on the field. But that's where it also changed the direction of his life.
"I was squatting 655 (pounds) and on my way up, I injured my sacroiliac joint," Jones said via email. "That injury really impacted my ability to perform and contribute during my senior season and continued to impact my quality of life up until graduate school."
The former running back never made a career in the NFL, partially due to his injury, but he is making a name for himself as an occupational therapist. He recently invented an alternative pain management technique that combines cannabidiol (CBD) oil and kinesiology tape.
No drugs, vaping or addiction. An environmentally sustainable way to treat injuries. It all started because of an accident. It's coming together because of the connections he made during his time as a Purdue football player.
Jones has started making a difference with his new, groundbreaking product: a non-psychoactive, CBD-infused kinesiology tape.
Tape dreams
"Cannesiology" is the name of one of Jones' tapes and "Kannesiology" is another. Similar to a nicotine patch, the CBD is transdermal, meaning it is transferred into the skin. The difference between the two products is Cannesiology contains tetrahydrocannabinol, or THC, and would not be able to be sold in every state. Kannesiology only contains CBD and less than the .003 THC content threshold, making it legal across the United States.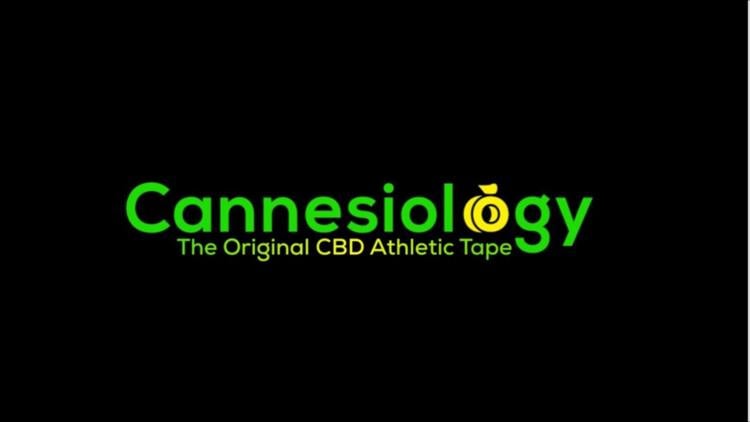 The Kannesiology Tape passes CBD, found in marijuana and infused in some essential oils, into the skin to offer extra relief for injuries that normal kinesiology tape cannot offer. CBD is often used for pain relief and has no psychoactive effect, meaning the user does not experience the euphoric feeling usually associated with being high.
There are many similarities between hemp and cannabis, which both contain THC and CBD. However, hemp has much more CBD than THC, the main chemical that provides the aforementioned euphoric feeling.
His idea started with his own experiences and manifested itself further after working with patients and veterans.
Using CBD in a product can be tricky. Many professional leagues such as the NFL and NBA have CBD listed as a banned substance. The only major professional league Jones can market the product towards is Mixed Martial Arts. MMA is very hard on the body, and even the winner of a fight is normally hurt.
Athletes, especially professionals, will try any pain management technique that can help them, so long as it does not contain chemicals or drugs that may get them banned from their sport.
"Right now the only professional sports leagues that we can offer our products through are those sanctioned by the World Anti-Doping Agency such as the MMA," Jones said. "We plan on overcoming all barriers through patient, provider and consumer education along with engaging in lobbying efforts. We're in touch with several former NFL'ers who are absolutely ecstatic to be a part of effecting change through the use of our groundbreaking products."
As for Cannesiology, Jones knows it could be a little while before it will be spread across the country, due to the addition of THC.
"Cannesiology will have to wait before it can reach its peak in the Boilermaker State," Jones said.
One day, he plans to come back to Indiana to introduce the products in the place he calls home and reconnect with old friends and teammates.
The foundation of a Boiler
Jones is making waves in the world of occupational therapy. He is a 2003 alumnus in law and society as well as organizational leadership and supervision.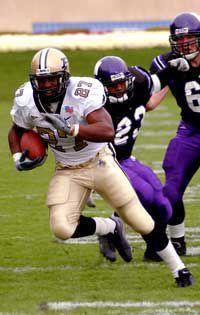 He also was a running back for the Boilermakers, rushing for over 100 yards in four games, and was named to the prestigious Captains Table along with other varsity athletes. He later signed a free agent contract with the Minnesota Vikings, but the relationship didn't last long because of the injury to his back.
Jones overlapped with Drew Brees for one year at Purdue. However, the status quo was the same: hard work, tenacity and good defense. Jones went up against some of the greatest defensive players that have ever stepped foot in Ross-Ade Stadium.
"A lot of people out (in Arizona) ask me, 'Who hit you the hardest?' and oftentimes, I say, 'I got hit harder in practice that I ever did in games,'" Jones said on the Hammer Down show on Wednesday afternoon. "That defense that we had to face every day, you had to bring it. It made me tougher as a football player, but it also enabled me to take life tips."
After the Vikings released him, Jones decided to move to Arizona and pursue a degree in occupational therapy at A.T. Still University in Mesa. Although he wasn't playing football anymore, Jones was still feeling the effects of the back injury in his daily life.
"I would have spontaneous episodes where my legs would give out on me, and I would fall," Jones told The Exponent. "The last time it happened was in the hallway at A.T. Still. Believe it or not, not long after that last episode I was approached by another student who was conducting a research study on kinesiology tape at the exact spot where my legs gave out on me, and I fell the week prior. Long story short, I participated in the research study, and I haven't had sudden falls and only negligible back pain ever since."
Jones' interest was ignited by his own personal experience with kinesiology, and he wanted to be a part of that world but wasn't sure how. After his and some of his friends' experiences, he knew he wanted to develop something that could help not only athletes but also everyday people who struggle with pain management.
Tapping the Purdue network
The NFL is the most physically intense version of football. 250-pound athletes running into each other at full speed takes a toll on a players' bodies — immediately and in the long term. So they turn to drugs, which aren't harmful at first, but after years and years of developing dependencies on pain medications, former athletes will start to see the effects physically and financially.
Stuart Schweigert, a former Purdue safety, saw it first hand.
Once NFL players are out of the league and pills become expensive, they may turn to the street to find cheaper drugs. Those, too, are still expensive, which is how some athletes turn to heroin.
"If there's an alternative to that, I'm all about it," said Schweigert, who now co-hosts a radio show on 101.7 The Hammer.
While at Purdue, Schweigert was always one of the best players on the field. He still holds the Purdue record for career interceptions, with 17. That's more than current Atlanta Falcon Ricardo Allen and legendary NFL player Rod Woodson.
But Schweigert's success on the field translated into constant pain off the field. He estimates that he had around 40 to 50 concussions while he played the game he loves. He was part of the class-action lawsuit against the NFL in 2018 that claimed, due to the high amount of concussions he suffered, he now has permanent and significant brain trauma.
All of those combined factors make this product seem like a legitimate alternative for pain management to him.
Jones describes it as "a much safer alternative compared to smoking, vaping or eating edibles that are loaded with sugar."
Jones hasn't been able to do it all alone; it has been a team effort, a team that has consisted of several former Boilermakers.
Brandon Villarreal, a former defensive lineman for the Boilers, is the company's vice president of football operations. He reaches out to former Boilermakers, NFL players and MMA athletes. His primary focus is to educate athletes on the "benefits of CBD derived from hemp and clear any misconceptions that they may have regarding the nature of the product."
When someone hears 'hemp' or 'CBD,' there is a word association with weed. Across the U.S., weed, hemp and CBD are becoming less stigmatized, but a stigma still exists. Could that be why the NFL, NCAA and many other professional leagues have it listed on their banned substances list?
Possibly. But that could change in the near future as studies and research help prove the legitimacy and pain reducing effects of the drugs.
On the west coast, Jones doesn't notice a stigma at all. According to him, doctors regularly recommend CBD to patients. Its effectiveness is proven, so why not use it?
As someone who saw the power of drugs in the NFL, Schweigert sees the future that alternative medicine options could have. He just learned about the product within the past week, but plans to do more research and get involved.
For now, he appreciates reconnecting with his former teammates. It's something he has been emphasizing lately as he gets involved in local media around Lafayette.
"I think that part of football gets missed sometimes (because) you're so caught up in the games on Saturdays and the championships and the bowl games. And you don't realize the relationships that we build."
Sometimes, you have to make the best of a situation that is handed to you. Jones is doing exactly that and for a higher purpose.
His anatomy and physiology professor in graduate school is also a Purdue graduate. One day, she told him to "go change hearts and minds."
"That conversation was a game-changer for me," Jones said. "It's been a mantra that I've ingrained into the essence of my very being because from that day forward, I've given my all to be a difference-maker while remembering that I've been placed on this earth to change hearts and minds."