Purdue (2-1) lost to No. 23 Northwestern (4-0), 27-20, Saturday night in Ross-Ade Stadium.  
In what was a tightly contested game, Purdue struggled early to get its offense going, gaining only 48 yards in the first quarter. 
Defensive tackle Lorenzo Neal jumped offsides on fourth down during Northwestern's first drive, an error that set up a touchdown pass from Northwestern quarterback Peyton Ramsey to receiver Ramaud Chiaokhiao-Bowman six minutes into the game.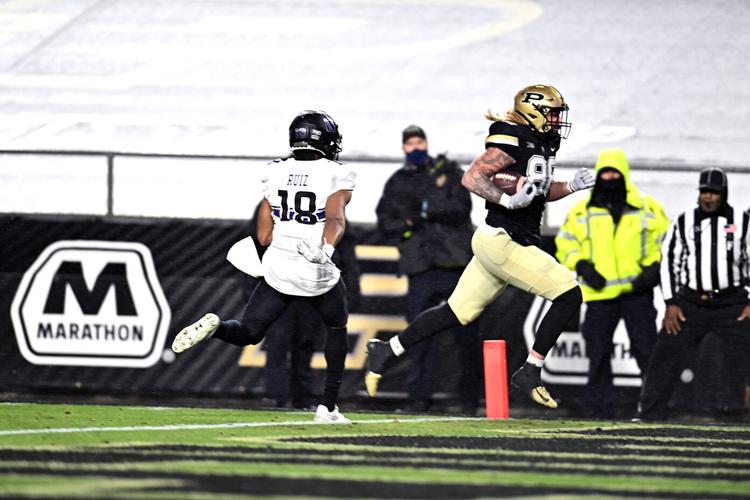 Tight end Garrett Miller scored on a 40-yard touchdown pass for his first career touchdown for the Boilermakers. This tied the game at 10 with seven minutes left in the second quarter. 
The rain picks up, and so does @BoilerFootball's offense.It's Garrett Miller 𝖒𝖔𝖙𝖔𝖗𝖎𝖓𝖌 for the score! 💨 pic.twitter.com/IMSIOnGuql

— Big Ten Network (@BigTenNetwork) November 14, 2020
Northwestern dominated time of possession in the first half, controlling the ball for nearly 20 of 30 minutes. Purdue had possession for just more than ten. 
The Boilermakers forced only one turnover in the game: an interception made by cornerback Cam Allen. 
Northwestern senior Ramaud Chiaokhio-Bowman played a large role in the Wildcats' win, pulling down 8 catches for 86 yards and 3 touchdowns. 
Purdue went only 4 for 17 on third down conversions, a stat reflective of the Boilermakers' offensive struggles throughout the night. 
Purdue running back Zander Horvath finished the game with 10 rushes for 21 yards, but earned career highs as a receiver, catching nine passes for 100 yards. His production significantly increased in the fourth quarter as the Boilermakers aimed to come back.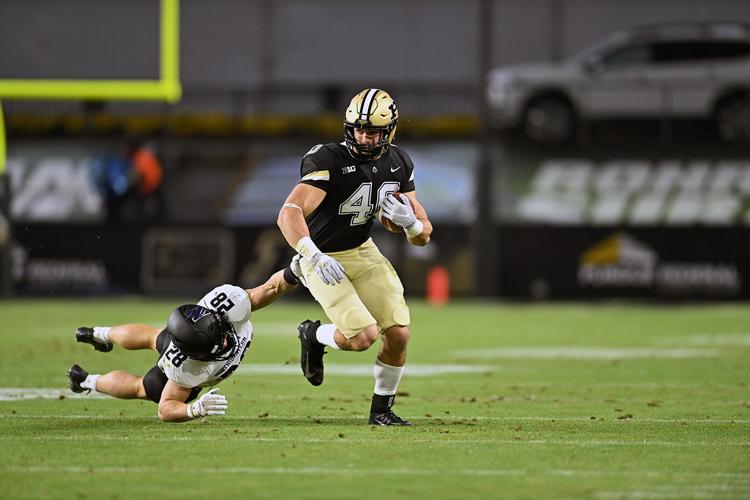 Wide receiver Milton Wright caught a touchdown pass in the back of the end zone with 7 minutes left in the 4th quarter, bringing the Boilermakers to within 7 points of the Wildcats. This capped a 14-play, 5-minute drive for the Boilermakers. 
Purdue linebacker DaMarcus Mitchell was disruptive in tonight's game, accumulating seven tackles, three for a loss, and forcing a fumble. He had a key stop to give Purdue the ball back with six minutes left in the game.
But Purdue failed to pull off a last-minute victory, turning the ball over on downs with roughly two minutes remaining. Northwestern converted a first down and then assumed victory formation to run out the game clock.
Final: Purdue 20 Northwestern 27Post game press conference https://t.co/OASYRlxqeY

— Exponent Sports Desk (@Exponent_Sports) November 15, 2020
In the end, it was the lack of offensive balance that cost Purdue the game. The Boilermakers rushed the ball 17 times for a net of only 2 yards. It also attempted 51 passes and had 263 net yards there.
"Any time you just rush for 2 yards we all take the blame, so I'm going to take blame for that," head coach Jeff Brohm said. "I thought we had a decent (game) plan of some different runs and spreading them out and trying to create some space. It seems like even when they were playing pass coverage they were knocking us back and back and going the other way especially early in the game."
Game Notes
• The loss was Purdue's fifth straight to the Wildcats in Ross-Ade Stadium.
• The Boilermakers return to action at 7:30 p.m., Friday, when they play at Minnesota (1-3). The game will be broadcast on the Big Ten Network.