In order to maintain players' safety in the Big Ten's resumption of football on Oct. 23, the conference announced today it has adopted daily coronavirus testing as well as enhanced cardiac screening for its student athletes.
In a Wednesday morning statement, the Big Ten said all athletes, coaches and other staff members must receive a negative COVID-19 test result prior to playing in either practices or games. Those who test positive through a daily point-of-contact antigen test will receive a second polymerase chain reaction test, which is more accurate, to confirm the result.
In addition to the tests, each team will establish a cardiac registry to study long-term effects of COVID-19 on student-athletes.
"The Big Ten has the most advanced testing system, and presumably the best precautions of anybody on that front," Purdue President Mitch Daniels said.
Daniels, who initially voted to postpone the season, said his reversal was prompted by the improved medical protocols being implemented.
"I think those were the most important findings, and again, I think this was time well-spent," he said. "I think our teams can now go forward under much safer conditions, with greater confidence than we would have had initially."
The Big Ten conference is still deciding between two third-party companies to provide and administer tests, according to Purdue Athletic Director Mike Bobinski. Bobinski said those tests will be administered by on-campus personnel hired by the given company, rather than being administered by Purdue sports medicine staff or other Purdue health officials.
The decision should come within days, Bobinski said.
The tests will be administered to all members of Purdue Athletics 6 to 7 days a week, depending how often they are in contact with the rest of the athletics department. Those tests should begin "on or around September 30," Bobinski said.
If someone does test positive, they will undergo "comprehensive cardiac testing to include labs and biomarkers, (electrocardiography), Echocardiogram and a Cardiac MRI," the statement reads.
Bobinski clarified that those screenings must be done "no sooner than 14 days" after the onset of symptoms. Assuming those screenings find no issues, and a negative test is provided, there will be an additional 7-day waiting period before a player or staff member can return to action.
Categories of severity with positivity rates
Testing data will be recorded in categories: Team positivity rate, the total positive tests divided by the total tests administered; and population positivity rate, the number of positive individuals divided by the total population at risk.
Those categories will be segmented into green, orange and red levels, the colors corresponding with the severity of the numbers recorded:
For team positivity rate, green corresponds with 0% to 2%, orange with 2% to 5%, and red with more than 5%.
For population positivity rate, green corresponds with 0% to 3.5%, orange with 3.5% to 7.5%, and red with more than 7.5%.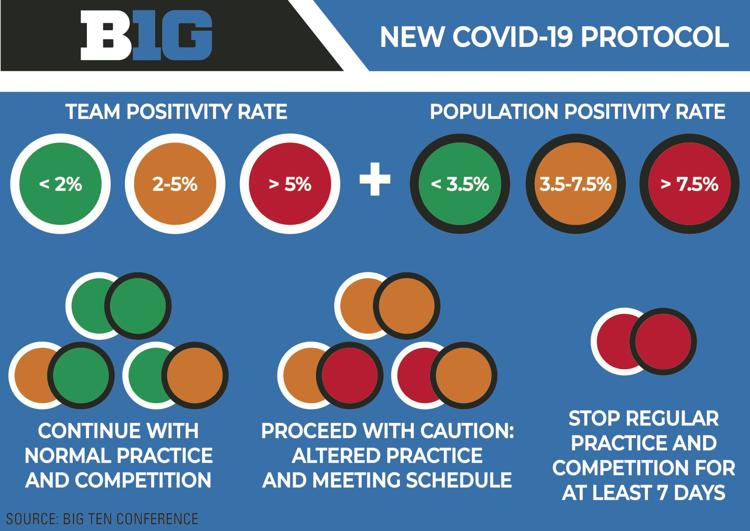 If team positivity rate and population positivity rate are both orange, or if team positivity is orange while population positivity is red, the team must alter their practice and meeting schedules to limit the spread of cases. If both categories are red, the team will have to stop practices and competitions for at least seven games, or until metrics have improved.
"That's something that we're gonna have to monitor," head football coach Jeff Brohm said. "I'm sure some teams in the Big Ten at this point have been above that, but I think with the daily antigen testing we're gonna do, we're hopeful to get that number down.
"It's gonna be a matter of how we can control our players outside and in social environments that's gonna determine if that number gets too high."
What will gameday look like?
Soon after the Big Ten's initial announcement, Vice President of Intercollegiate Athletics Sandy Barbour said tickets will not be sold to the public for the entire season.
Daniels said families of players, coaches and other staff members will be the only exception to this rule, though he hinted at a potential "revisitation" of that question in the future.
For family members in attendance as well as any media personnel present, proof of negative coronavirus tests will likely not be required before entry, Bobinski said. But the Big Ten has not confirmed that detail, he added.
"We've got till the end of October to figure some of those things out," he said. "There will obviously be social distancing and masking and all those kind of things."
Daniels said administrators will aim to prevent tailgating on gamedays. Other celebrations must adhere to safety protocols if they are to occur at all.
"This issue of how we celebrate without jeopardizing the very fragile situation is gonna be a very important one," Daniels said. "We're not gonna have tailgating, we're not gonna permit it. We'll discourage it every way we can.
"We're gonna have to fashion some way for all of us to enjoy the games without congregating in ways that violate all the rules that go into the Protect Purdue Pledge."