Purdue wrestling, currently ranked No. 20, took a tough loss to No. 6 Ohio State Friday, losing 34-3.
The Buckeyes (9-2, 6-2 Big Ten) have a loaded starting lineup, with a ranked wrestler in every spot. They managed to claim bonus points in four of their nine victories over Purdue (6-9, 2-6), including a fall from No. 3 Micah Jordan over redshirt freshman Parker Filius.
The meet started with fireworks early on in a battle between No. 15 Ben Thornton and No. 6 Luke Pletcher. Thornton, a senior, was wrestling his final home match, and left everything on the mat against Pletcher.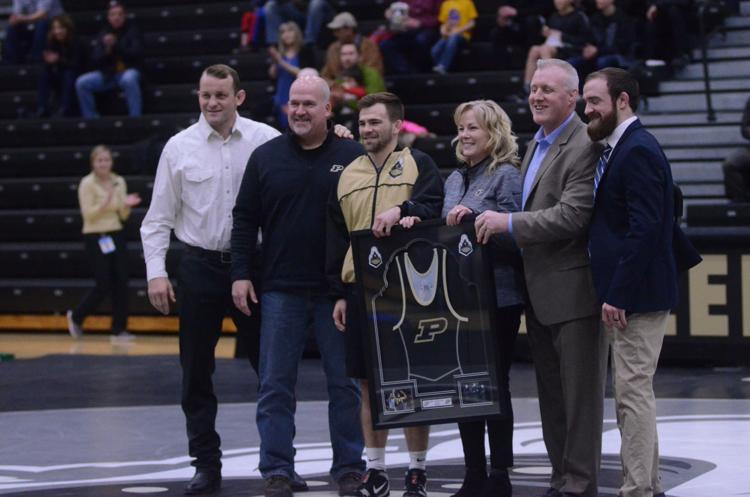 The match was tied 1-1 in the third period when Thornton was called for unnecessary roughness, giving Pletcher a point for illegal hands to the face. This call has been a thorn in Purdue's side all season, and decided close matches as recently as last Sunday against Rutgers. Though Thornton pushed for a takedown for the remainder of the match, he was unable to get to his offense.
The crowd was visibly upset over the match being decided by a penalty point, and was calling for a penalty on Pletcher when it appeared that he took his hands to Thornton's face.
This match was followed by a string of disappointing losses to highly ranked Buckeyes. Going into the 174 lb. match, the team score was 24-0.
Junior Dylan Lydy earned Purdue's sole victory with a 5-3 decision over No. 18 Ethan Smith of Ohio State. While the match score was close, Lydy consistently pushed the pace with his offense throughout the match.
The final three matches went to the Buckeyes.
The night concluded with another senior, Jacob Aven, in an 11-3 loss. Aven and Thornton are the only two starting seniors, but were joined by teammates Jon Morales and Mario Leveille, two additional seniors who are backups.
The Boilers have their final Big Ten competition this Sunday against Michigan State.