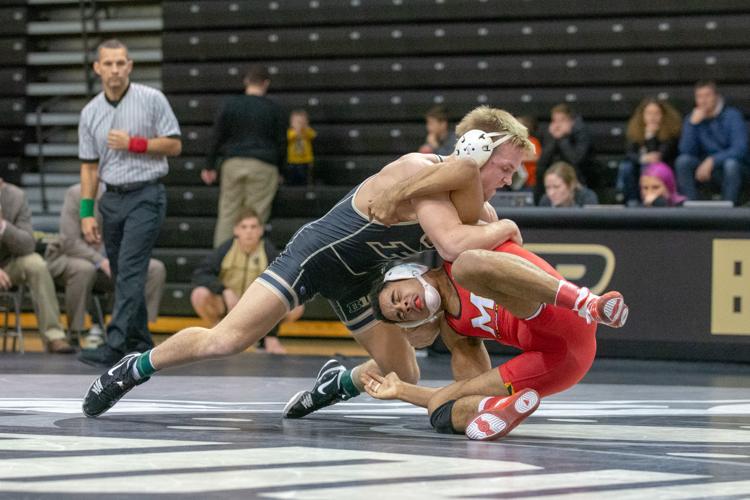 The Purdue wrestling team rolled the University of Maryland Terrapins 28-10 Friday night in a dominant performance by the Boilers (4-4, 1-1 Big Ten), who were back at full strength after several injuries over winter break.
Purdue took seven of 10 bouts, widening the score gap with a majority of bonus point wins. No. 19 Ben Thornton's tech fall as well as No. 12 Christian Brunner's pin helped the Boilers earn bonus points in four of seven victories.
Maryland's (0-5, 0-2) bonus points were limited to a single major decision by No. 19 Alfred Bannister over redshirt freshman Parker Filius. Though the 12-3 match ended in a disappointing last second takedown to snare a major decision for Bannister, Filius had a series of promising attacks and scrambles in his home dual debut. These attacks didn't lead to takedowns, but did lead to a couple situations where Bannister nearly exposed his back.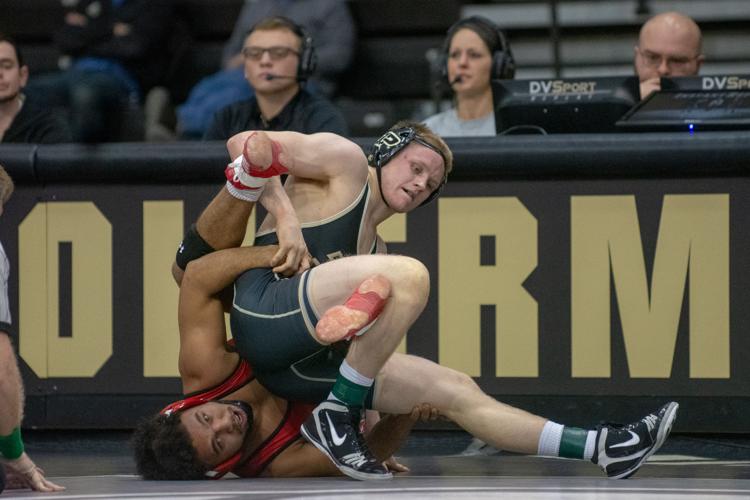 The Boilers came off a string of losses in the South Beach Duals in Florida, where a weakened lineup fell to No. 6 Missouri, No. 7 NC State and No. 22 Utah Valley. Then No. 13, the team lacked three key grapplers, each nationally ranked in the top 20 in their respective weight classes.
"We didn't have Dylan Lydy, Ben Thornton or Griffin Parriott, who all won tonight," said Purdue head coach Tony Ersland. "Those guys are ranked, so three ranked guys out of your lineup, very hard to overcome. But these guys, they understand they're tough, and when we have our lineup intact, they're gonna be a tough team to beat."
The night started at 125 lb. with a 9-1 major decision by Devin Schroder. The sophomore, already 11th on Purdue's career back points list, proved his versatility by reaching a major decision without any back points. He combined takedowns, reversals, riding time and stalling calls to reach the 8-point lead necessary for an extra team point.
Thornton followed the meet opener with a two-period tech fall. The returning NCAA Championship qualifier came off of an injury that prevented him from wrestling at South Beach, yet looked to be at full strength for the win.
"Coming off an injury, a lot of it's just mental, like being ready to go and not being hesitant," Thornton said. "I just had to be as explosive as I can, and a couple times in the match it came to that. I just was more explosive than the guy, got the takedown and then finished my work on top."
The senior hit several tilts to gain the back points necessary for the tech fall. This dominance on top was seen all night, especially throughout the lower weight classes. Schroder's riding time and Thornton's tilts set the stage for another good top wrestler, junior Nate Limmex. While Limmex was ridden out in the second period, he was able to turn the pain back up on Maryland with a third-period rideout to seal the victory.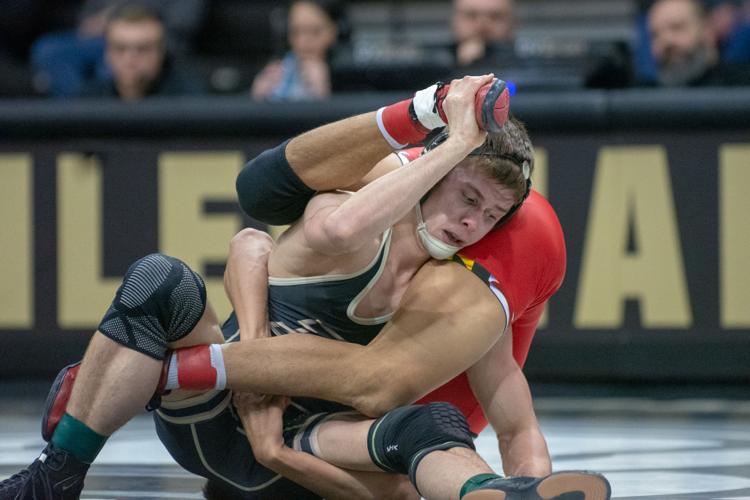 "We've worked a lot on top this year," Ersland said. "We have Coach (Aaron) Schopp, who's actually not on the bench tonight because he had knee surgery himself the other day, but (Schopp) definitely had a nice impact."
Schopp's influence on the Boilermakers was also noted by Thornton.
Possibly the most exciting match of the night featured Parriott, who came back from a two-takedown deficit to defeat Maryland's Adam Whitesell 9-6.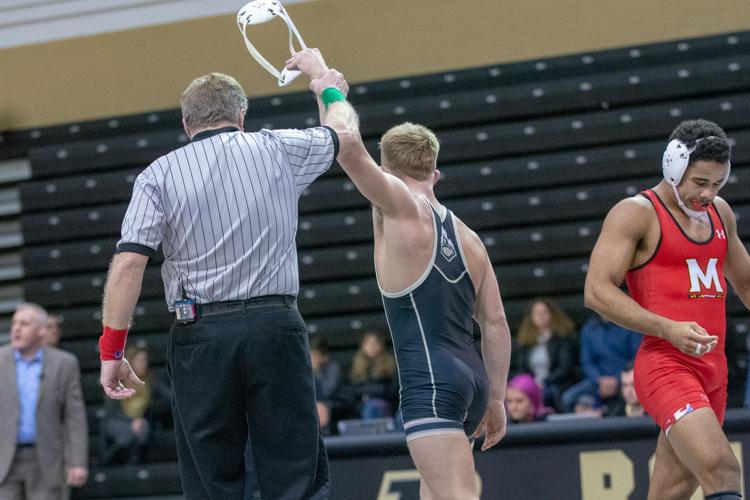 "I've gone down in the past and kind of rushed with a big move, and that hasn't always worked out," Parriott said. "So staying in the moment, trying to score the next point, (was my plan)."
One big move to close out the first period initially resulted in backpoints, but the points were removed after a challenge from Maryland.
With his opponent down by one point in the third period, Parriott weathered a series of desperate takedown attempts for the victory.
"Him being down early and having to keep his composure was good," Ersland said.
Dylan Lydy wrestled a hard-hitting match for a 14-3 major decision. Several attacks pushed Maryland's Josh Ugalde into the surrounding environment, and the impacts from Lydy's takedowns rang loud. The redshirt junior's physicality ultimately led to a nasty-looking leg injury for Ugalde, who finished the match wrestling with a limp.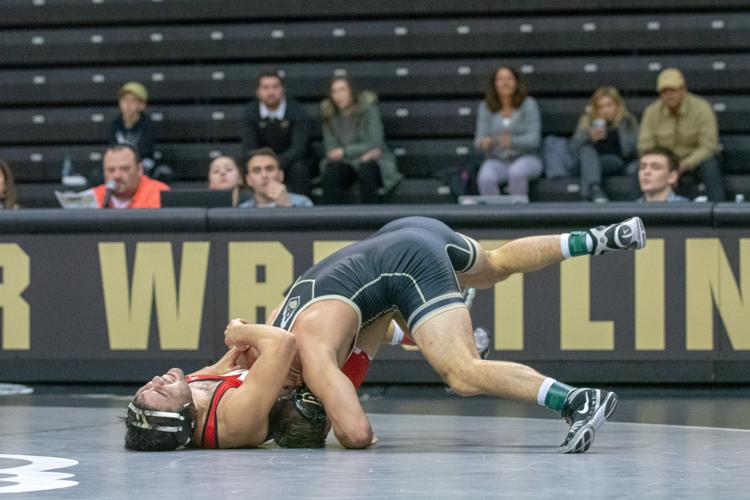 Brunner, coming off of several wins in the South Beach duals, kept the ball rolling with a second period pin. The junior overpowered his opponent by trapping a leg and inflicting a mean crossface hold for the fall.
The Boilers will put on their biggest home event of the season 7 p.m. this Friday as they host the Hoosiers at Mackey Arena. Indiana University faced the Terrapins on Sunday, triumphing by score of 36-3. The event kicks off the #BeatIU weekend as the Boilers look for their ninth straight win over IU wrestling.
Though history shows a clearly dominant performance from Purdue, the presence of a new Hoosier head coach, Angel Escobedo, could make the competition more interesting.